GIVE THEM EDUCATION NOT A TRAY TO HAWK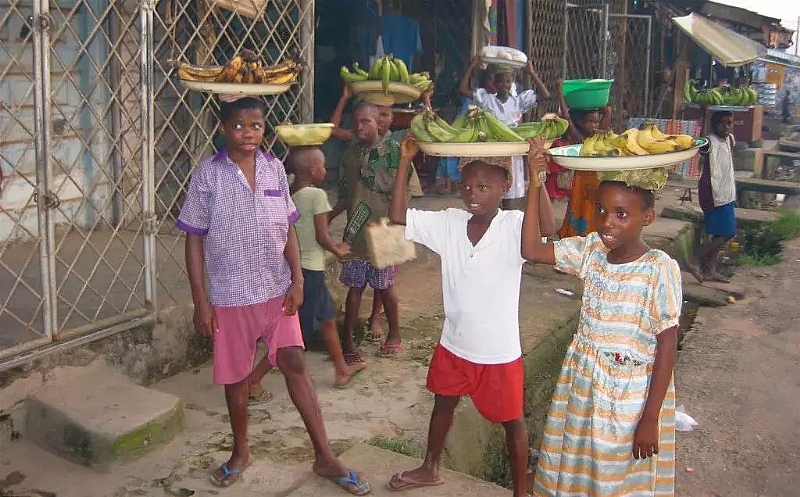 Children are a heritage from the Lord, the fruit of the womb, a reward
of marriage. When a couple gets married, before or after a year, they
would be expecting a child! And when they are blessed with children
they are overwhelmed with joy. These children are blessings from the
Lord and not burdens. They serve as a great support and defense to the
family.
The dream of every couple is to see that they are blessed with the
fruit of the womb. They want their children to be brought up in the
right way, the way a child is supposed to be trained, obey and respect
their elders, obey civil and religious laws as well as be good
citizens of their country. These can only be achieved when their
actions and thoughts, are free from vanity.
The future of a country depends on the young ones and that is why
they are referred to as the leaders of tomorrow, but i don't agree
with this as they are the leaders of today and not tomorrow because
the future is today and it starts now!
Therefore, something need to be done and that is education. Education
is key in every society to develop. We should know that educating our
children is not a waste of time or money, give them a trial by sending
them to school it is worth rewarding and profitable.
At the most basic level, education is important because it gives
people the baseline skills to survive as adult in the world. These
skills include the basic literacy and numeracy, as well as the ability
to communicate with others.
Education is essential for nearly every type of job or career and in
many cases, education makes the difference between being able to
perform a job safely and accurately and being unable to perform a job
at all.
However, many people believe that education is important in life for
reasons beyond basic survival skills. Eleanor Roosevelt famously said
that education is essential to good citizenship and that education is
important to life because it enables people to contribute to their
community and their country.
Education is important because it helps to answer life big questions
including questions of how to live, work and love. Education teaches
people about the world and the events around them.
The fact therefore still remains that education is the key and in
order to make a better and productive society, our children need to be
educated. If you say education is expensive then try ignorance.
A country that is threatened with insecurity, kidnapping, terrorism,
cultism among others, the victims of these acts are children. Children
are vulnerable and in most cases considered helpless. In Maiduguri the
state capital of Borno , these children are scattered all over the
streets and bridges some as orphans ,Internally Displaced Children,
child laborers working hard to fend for themselves, while some are
even homeless sleeping in garages.
Children in Nigeria as well as other parts of the world have the Right
to Life, Right to Education, Right to Healthcare services, and Freedom
of Speech among others, the Rights of these children are being abused.
Walking through "Tashan Bama" in Maiduguri leaves me with nothing but
a troubled mind. Children are seen wondering all over the street
scavenging for food ,with the popular word the Almajiri's do say when
they are in need for food say "Alaro", hawking, some of these children
are used by handicapped adults as guides during street begging which
makes them fall victims to abuses.
The survival or right to life of these children are not planned for,
talk more of their Right to Education. These children are engaged in
child labour which is simply referred to as any hazardous work that is
given to children who fall between the ages of 15 to 17 years old as a
result of poor family background.
It is also seen as any activity that deprive children of their
childhood, broadly, any child who is employed in activities to feed
self and family is subjected to child labour. Most children who engage
in one form of labour or the other are seen to be manner less and
don't respect their parents and elders again since they fend for
themselves and provide their needs.
When the right of a child is being abused, he or she is being exposed
to crime and thereby increasing the rate of juvenile delinquency in
the society, some of them becoming drug addicts as an idle mind is the
devils workshop.
These children especially the girl child might be exposed to early and
unwanted pregnancy which makes them experience stigmatization or
become stigmatized in the society. Most of this girls end up aborting
the unborn child thereby committing sin before God and humanity. Some
girls lose their lives in this process and some get infected with
diseases or end up giving birth to illegitimate child (ren) there by
constituting nuisance to their families.
To put in place all possible measures, a great call is made to the
Borno state government to ensure that no child is seen roaming the
streets or hawking during school hours. Both primary and secondary
schools in the state should be well equipped both in personnel and
infrastructure wise to make learning conducive. It also behoves on
the state government to create empowerment centers where this children
can learn a trade or skill, so that they can be entrepreneurial
creators and not job seekers.
Give the child a bed to lay on, a pillow to rest his head, a shoulder
to lean on, arms to embrace him, a heart to care and love him. Give
him the greatest weapon that can conquer illiteracy, poverty,
insurgency, terrorism, give the child education.
Say No to child labour, protect the young ones from the hot scotching,
the cold wind, the rainy days their safety is our priority. Put a
smile on the face of every child, give the Nigerian child a voice,
give him education!
Yabawa Lazarus and Winifred Ijafiya are students of mass
communication, university of Maiduguri, 300 level.
SOURCE: The Nigerian Voice (local news)