Good Friday: Nasarawa Govt. Harps On Virtues Of Tolerance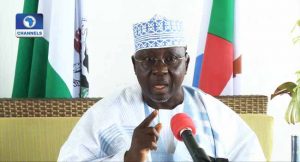 The Christian faithful in Nasarawa state have been tasked to uphold the virtues of patience, tolerance and sacrifice as exemplified by Jesus Christ on the cross, to save mankind from eternal destruction.
The state Deputy Governor, Silas Agara, gave the task in his Easter good-will message as the faithful marked the 2017 Good Friday and Easter festivities.
According to him, the Easter season represents a period of self-denial, good neighborliness, sacrifice and higher spiritual attainment. He therefore urged adherents to sustain the spirit beyond the festivity for the good of humanity.
Furthermore, Mr Agara urged citizens to love one another and to live in peace with all, irrespective of their status, religion and ethnicity.
He rejoiced with all Nigerians and the people of Nasarawa in particular, on the solemn occasion on behalf of the Governor, Tanko Al-makura.
He also used the opportunity to call on security agencies to ensure safety of lives and property across the state during and after the celebration.
SOURCE: Channels Tv