Gov. Gaidam Inspects Damaturu Int'l Cargo Airport Construction…Says Dedicated Account Opened for the Project .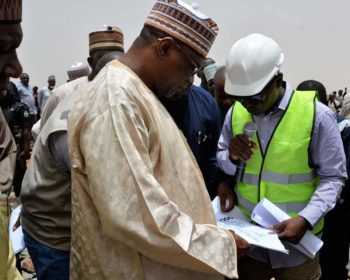 By Ahmed Abu, The Nigerian Voice, Damatru
Gov. Ibrahim Gaidam of Yobe state has undertaken an inspection tour of the Damaturu International Cargo Airport under construction, saying the state government had opened a dedicated account for the project to ensure its effective and timely completion.
The governor, who was accompanied by senior government officials on the tour in the afternoon today, commended the contractors for the progress of work so far.
"I am very impressed with what I have seen here today. The speed and quality of work are both excellent. The contractors have executed 51.5% of work so far and it is my belief that they will finish this work in record time by the end of December this year", the governor said.
The governor charged the contractors to deliver the work on schedule, assuring them that funds are there waiting for their Certificate of Valuation (CV).
"Money is waiting for your CV. We have created a dedicated account called Airport Project Account. I can assure that your CV will not suffer any payment delays", he said.
Gov. Gaidam was conducted round the airport project by the Commissioners of Works, Hon. Lawan Shettima Ali and Housing, Alhaji Bukar Dauda respectively, whose ministries are supervising the project and was briefed on the progress of work by the Project Director, Aminu Abubakar Suleiman.
Hon. Lawan Shettima Ali told the governor that the construction of the airport runway, perimeter fencing, access roads, taxi way, terminal building, control tower, patrol road, administrative and maintenance buildings, apron, and the Cleared Graded Area (CGA), etc. are all advancing appreciably.
en
SOURCE :The Nigerian Voice (local news)