GOV. OKOROCHA DOLES OUT N2 MILLION TO LAWMAKERS TO BEGIN IMPEACHMENT PROCEEDING AGAINST IMO DEPUTY GOVERNOR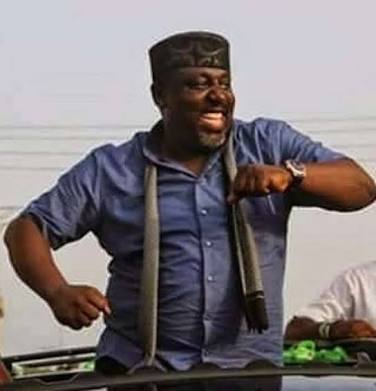 By Kenneth Nwoke, The Nigerian Voice, Owerri
While alleged plot to kill the Deputy Governor, Prince Eze Madumere may have failed due to outcry from the public, Governor Okorocha of Imo State may have settled with the re-invigorated idea of beginning an impeachment proceeding against his Deputy.
The plot is attributable to Prince Madumere's refusal to support Governor Okorocha's resolve to impose his son-in-law on Imo people as the next Governor of the State, come 2019.
Sunday night , members of the House of Assembly received N2 million each to agree to append their signature to begin the impeachment proceeding against the Deputy Governor, Prince Madumere.
As was revealed earlier in previous attempts, the Speaker of the Imo Assembly, Rt. Hon. Acho Ihim was allegedly promised the office of the Deputy Governor while Hon. Lugard Osuji who, reportedly, is the go-between was allegedly promised the Speakership of the House of Assembly should they succeed in the impeachment plot against the Deputy Governor.
Our source revealed that having been advised against the alleged murder of the Chief Judge who posed a serious threat to the plot against the Deputy Governor, Okorocha was said to have decided to offer the Chief Judge, Justice Paschal Nnadi the sum of $300, 000 and the wife to be offered the gratification of $100, 000 with professorship and appointed Vice Chancellor of Imo State University,
According to our source, the wife of the Governor, Nneoma Nkechi Okorocha and one Hon. Uju Onwudiwe, House member representing Njaba Local Government Area of Imo State have been assigned to hand over the offer to the wife of the Chief Judge, Dr. Mrs. Nnadi.
The source further revealed that the Chief Judge may be threatened with kidnap of any of his family members should he not yield to the request of the Governor.
Curiously, questions are being asked whether there was any link between the planed impeachment of the Deputy Governor and the visit of the Inspector General of Police, Ibrahim Idris to Imo State. The IGP spent four days in the State, fuelling speculations that he may have contributed to the said impeachment plot especially on how to deal with any resistance from Imo people.
Our source had earlier revealed that the Commissioner of Police, Dasuki Galadanchi had promised to unleash hell on the people should they resist, tutoring his men to deal with would be anti-Okorocha protesters, including effecting a shoot at sight order, while claiming it was accidental discharge.
en
SOURCE :The Nigerian Voice (local news)