Gov Okowa Not Sick, Healthy And On Vacation; Kachukwu, Okowa Friendship Devoid Of Partisan Politics – Fred Oghenesivbe.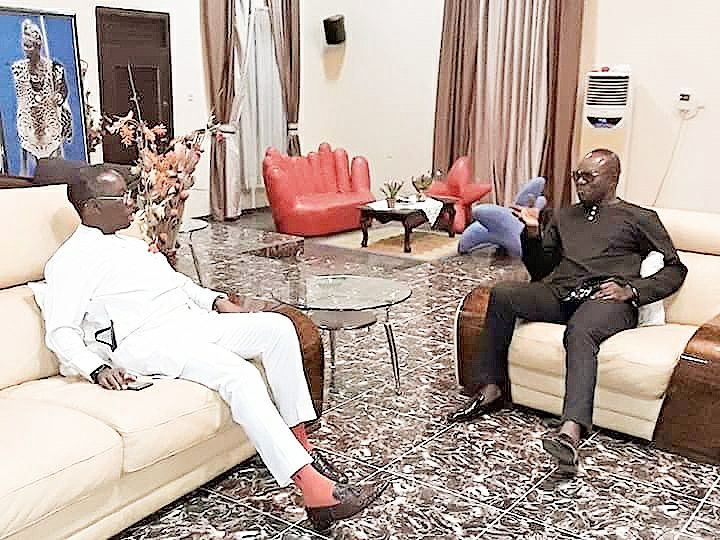 His Excellency the Governor of Delta State, Senator Dr Ifeanyi Arthur Okowa is super healthy and currently on a short vocation after round the clock hardwork that produced tremendous socioeconomic and infrastructure development within a short period of time in a recessed economy of the All Progressives Congress (APC ) fractured "CHANGE" national government.
Executive Assistant to Delta State Governor on Communication, Dr (Barrister) Fred Latimore Oghenesivbe in a statement said, few days ago some disgruntled and mischievous elements within the major opposition party rocked the social media with false claim that the smart governor of Delta State, jetted out of the country for emergency medical treatment over abdominal pains, adding that, Gov Okowa is in excellent health condition without any trace of pains in his abdomen.
"The good people of Delta State and the general public should discard the evil rumours widely circulated via the social media sponsored by some frustrated leaders of the All Progressives Congress (APC). Our governor remains smart and cool. Be rest assured that he will not be sick now or in the future because of the finger of God upon his life and family.
"It is very unfortunate that while Gov Okowa and the entire members of PDP in Delta State are praying fervently for the quick recovery of President Muhammadu Buhari of the APC who is currently on medical treatment in London; some uncultured and heartless inexperienced political leaders within the major opposition party, the APC in the state are crafting evil and projecting sickness on a kind hearted and patriotic Nigerian in the person of Okowa.
"Gov Okowa is hidden under the solid rock of Jesus Christ and no sickness projected or invoked towards him and his blessed family shall prosper. Deltans are known to be their brothers' keepers but the crop of leaders and party faithfuls in APC Delta have shown that they are desperate to rule even if it meant killing their fellow Deltans to take over power. It is sad and shameful.
"Let me make it abundantly clear once again that Gov Okowa enjoys both constitutional and divine holy ghost immunity and as such the smart governor will continue to attract the huge support of the happy, kind, God fearing and good people of Delta State and Nigeria by positive extension."
Oghenesivbe in the same token swiftly reacted to what he described as a poorly presented and mischievous publication by ADVOCATE Online media in which some cowards and unschooled political elements in APC Delta linked the Honourable Minister of Petroleum Resources and board room expert, Ibe Kachukwu Esq to Okowa's re-election project in 2019, describing it as the hot tears of a drowning party and their politically inexperienced state leaders.
"It is a fact that Gov Okowa and Ibe Kachukwu are both illustrious sons of Delta and Anioma Nation and the duo's super friendship spans several years devoid of political affiliation and partisan politics.
"Some selfish so-called leaders in Delta APC are working underground to have Kachukwu dropped as minister so that a member of their weak and inefficient political cabal can be appointed Minister of the Federal Republic of Nigeria and if possible grab the Petroleum Ministry portfolio.
"Deltans and the general public will recall that immediately Kachukwu was appointed Minister in 2015, the same shameless and inexperienced political contractors that parade themselves as leaders in APC Delta flooded the media with highly irritating agitation, calling on President Buhari to revoke the appointment.
"The same mischievous fellows who parade themselves as co-leaders of the party have been identified as unfriendly friends of Kachukwu within the APC Delta moribund political family. The are now stagging another round of evil blackmail against a hardworking and highly resourceful citizen and patriotic serving Petroleum minister.
"APC DELTA is a wailing, confused and chained baby party bedevilled by internal multiple factions, greed, petty squabbles and not capable of winning elections in Delta state for a very long time to come.
"APC Delta leaders must of a necessity continue to wallow in their own political deep blue sea while Okowa and Ibe Kachukwu continue to enjoy their solid friendship devoid of partisan politics and nepotism," Oghenesivbe added.
en
SOURCE :The Nigerian Voice (local news)