Gov. Ortom, Tashaku And Implication For National Security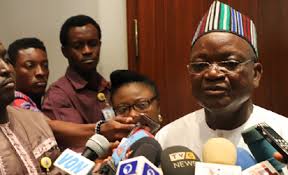 Social media is disliked by some Nigerians because of its unregulated tendency to churn out falsehood. Those who hate it have their reasons, just like those who love it. Like every human phenomenon, social media has its good and bad sides too.
It can teach, enlighten, propagate, inform and defame personalities and nations. Anyone is free to flow with it based on mindset.
A circulated, punchy phrase has trended on social media in the past two months. Nigeria's former military dictator, Late Gen. Sani Abacha is quoted as saying, any insurgency that lasts more than 24 hours, it means government has hands in its emergence.
The wisdom came into relevance last week Friday, when a combined team of security agencies, comprising, troops of 707 Special Forces Brigade of the Nigerian Army; the Nigerian Police and the Department of State Services (DSS) arrested one of Boko Haram's kingpins, Aminu Yaminu, alias Tashaku in Makurdi. He is widely believed in security circles as the don, masterminding the recent bloodbath in Benue in the garb of herders/farmers clashes.
Upon the arrest of Tashaku, Army public relations department also hinted that he had concluded plans with his soul mates in devilry from Bauchi, Borno, Yobe, and Nasarawa states to consolidate the killings in Benue with more vicious onslaughts.
The worry is that Tashaku is a known and confessed criminal, having links with the dreaded Boko Haram terrorists. He had been with the sect since the days of the founder, Mohammed Yusuf. To overtly attest to his criminality, he is a man with several identities. Though born of Tiv ancestry, he is variously known as Aminu Yaminu,, Aliyu Tashaku or simply Tashaku.
Former Benue Governor Gabriel Suswam appointed Tashaku, head of JTF, whose major briefs were to kill opponents and rig elections for their bosses. And incumbent Gov. Ortom retained Tashaku as leader of Livestock Guards, formed after signing into law and implementation of the anti-open grazing law last November 2017.
A goon and don in the truest sense of it in the den of terrorism, it is surprising why Benue State Governor Samuel Ortom re-appointed him leader of the Livestock Guards, even though he knew of his background.
Now, since January 1st, 2018, the herders and farmers clashes have led to hundreds of deaths, in different communities and villages in the state. The picture in public domain is that both herders and farmers are struggling over scare land resources. But what has remained a mystery is why the crises are defiling all known remedial solutions.
President Muhammadu Buhari intervened by sending the Army to checkmate the crises. But it seems on the ascendency. While herders and farmers bicker on the field; Gov. Ortom and his minions are also embroiled in a verbal tussle with the FGN over the killings.
Muscles have been flexed, in high places, but the cause of the crises is just within the state, apparently targeting some political gains.
First, it was the arrest of members of the JTF in Benue and now leader of Livestock Guards. The JTF suspects confessed to security agents that the Benue State Government armed them to "execute" herdsmen. As usual, government denied complicity. But the JTF suspects were on a monthly stipend, paid by the state, which owed them months of unpaid stipends.
The hullabaloo lasted for a while and everybody seems to have forgotten about what transpired. No one is prepared to examine the import of the arrests on state cum national security. Life has gone on, very normal, while the killings continue under a metamorphosed leader, Tashaku who heads the quasi-security outfit- Livestock Guards.
Tashaku links his foot soldiers in the Northeast to launch attacks on Benue, because, he is making monetary capital out of the crises. In the heat of the killings, Ortom jetted out to China again, just to create an alibi of absence. So, Tashaku and his agents stretched into the church and killed two catholic Priests and scores of worshippers'.
The lower rung of leadership in Nigeria is generally on its lowest estimation. But this is a step too far! That a state Chief executive and security officer could condescend so low to hire a known terrorist to kill his own people is unimaginable!
Clearly, the killings in Benue have been perfected from unexpected places, but to realize that it is coming from the temple of Benue People's House, with a self-acclaimed man of God, whose slogan is "In God we trust," is reprehensive. To worsen matters, Gov. Ortom finds it convenient to blame the military for imaginary lacunas.
It's extremely unconscionable that in Benue and Taraba states, unabated killings are sponsored with the resources of these states, as recent arrests of major masterminds have indicated. To deploy tax payers monies to sponsor evil against the same tax payers to the level of placing the killer agents on salaries is not just sinful, but offensive.
Gov. Dairus Dickson Ishaku of Taraba state has an axe to grind with his people in 2019. He cannot escape judgment day and the verdict is predictably, very harsh. Gov. Ortom is under the same spell and his case appears worse because it's like he has even spited Almighty God.
Benue can forgive Ortom for the months of unpaid salaries, with no single state project to commission in three years. The people are already used to hard times and hard life, without salaries or any state government patronage or presence.
In Benue, food vendors are now tired of writing off bad debts and have resolved to stop selling to cashless customers (civil servants). Hospitals have closed up on owned medical bills. Now, the sick cannot even approach the hospitals anymore. Consumption of herbs for all ailments is the vogue in Benue now.
Agreed, the people prayed for death, but least expected that it will come earlier than expected and anchored from Benue Peoples House. The people resolved not to die from hunger, but the Governor is paying agents with their money to massively kill them, not even sparing churches. Is God sleeping! Meanwhile, their Governor, Chief Ortom, himself, a publicly professed man of God, flaunts before the people, blood stained hands?
Benue can forgive Gov. Ortom for failing to develop a state he inherited with a very robust economy and bubbling social life, which has silently ebbed out. But Ortom cannot be forgiven for not rising to the massacre of Benue people.
Oooh! Mighty father! What is the sin of Benue? Must Gov. Ortom become the harbinger of remnants of Boko Haram lynchpins dislodged from the Northeast? It has grave consequences, not only for people of the state, but for national security. Can a Benue elder talk to this Governor?
Targema is a security consultant based in Lagos.
en
SOURCE :The Nigerian Voice (opinions)