gov. Rochas, Make Me Your Deputy Governor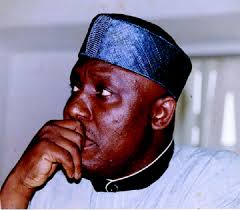 In the words of one of the Greek great Philosophers (Plato), he asserts "A man cannot enquire about that which he knows, or about that which he does not know, for if he knows, he has no need to enquire; and if not, he cannot, for he does not know the very subject about which he is to enquire." For David Hume, "All reasoning concerning matter of fact seems to be founded on the relation of cause and effect." These philosophical quotations may have various meanings in the context of their usage, but suffice it to say that one can only enquire of what he knows in order to gain higher knowledge of it.
I am very certain of the existing fact that the law of cause and effect is fighting this present administration in Imo State led by Chief Rochas Okorocha. Yes, Gov. Rochas in line with the law of vendetta wants to fight back and in fighting back, he is bringing the past, present and probably the future in order to legally consolidate the political destruction of his Deputy Governor Prince Eze Madumere.
Few years ago, I published an article telling Chief Madumere that he will go as he came; this was after the impeachment of the former Deputy Governor Chief Jude Agbaso. However, if Prince Eze Madumere is finally impeached, Gov. Rochas will go into the annals of history as the governor in the history of our democracy that produced three deputy governors in less than eight years. What this simply shows is the fact that Gov. Rochas lacks the proper knowledge of crisis management. Gov. Rochas is not a human management expert which is part of leadership quality; the logical inference therefore is that Gov. Rochas is not a good leader. It was Emmanuel Kant a great German Philosopher who says that, "Thoughts without content are empty, intuition without concepts are blind."
If you bring the above philosophical dictum of Kant into leadership perspective in the context of our discussion, you will discover that action bereft of morality is devilish and wicked while political perception bereft of leadership discernment is profoundly erroneous. This will not go down well with some political sycophants who prefer the topsy-turvy of political truth to summation of political decorum anchored on truth.
Few weeks ago and on this column, I published an article with the caption, "The Easiest Way of Making Ugwumba Imo Governor." In the article I implored Gov. Rochas to use his political power to impeach his deputy Prince Eze Madumere and use his son in law to replace Eze Madumere and then resign his position as state chief executive so that his deputy Ugwumba Uche Nwosu can take over as the state Chief executive. The advice was a good one but was greeted with the usual threat from some political foes.
Gov. Rochas is faced with the irresistible fact that his deputy is posing serious threat to the realization of his intention in producing his next successor; therefore, he has no other option than to invoke his past mistakes in order to haunt his political destiny. The drama is interesting but my governor should remember that he has a past too and it can be used against him no matter how smart he is. Everyone has a past; even God has a past otherwise why did he regret to have made man? The regret was his past which some are using against him today; however, I am literalizing theology here and you may choose to call it street theology. A little smile could ease your ill-built emotions against Chief Rochas and the drama playing out in Imo state. Yes, Gov. Rochas just realized that his deputy is not qualified to be deputy governor; what a surprise! Below is part of the extract from the article.
"It was St. Augustine who says that "pride changed angels into devils; humility makes men into angel." I am afraid that the way you are going, you may make a serious mistake hence I am via this medium imploring you to listen to the voice of reason by pushing further to impeach your Deputy Prince Eze Madumere. Mr. Rochas, listen to me and don't apply pride (that turned angels into devils) to this simple admonition; it will help you so much.
Try to impeach the Deputy Governor by using your "boys" at Imo House of Assembly. You are in control of the Imo House of Assembly. They have been starved financially and now you can use all the monies you have diverted to influence them to impeach Eze Madumere. The good news for you sir, is that the Speaker of Imo House of Assembly can do your bedding very well. Rumours had it lastweek that they rejected the offer that was made to them for this purpose. I wish to encourage you to do more…everyone has a price and I am sure that part of the Paris club fund can do the magic. I do not mean the one lifted by air Ambulance early this year; I know it is not within reach now. But as an executive governor, you can use two months of Imo Federal Allocation to do the magic. Imo workers cannot do any harm; yes, they can be very patience with you sir.
Gov. Rochas, kindly do the magic by allowing your Deputy to be impeached. I am aware that Imo Deputy Governor has committed impeachable offence by aligning with the camp that is not associated with ndi agburu anyi. Let him be impeached now and let Ugwumba Uche Nwosu be brought in as the Deputy Governor of Imo state-heavens will not fall. A philosopher once said, "No matter how far you have travelled in a wrong direction always be courageous to turn back. It is not how far that matters but how well." My governor, you know that your Deputy has served you for a long time but today, your camp is divided and he has joined those opposing your mission. Impeach him!
If the Imo Deputy governor has truly done this let him be impeached and let Ugwumba Uche Nwosu take over his place. I am certain that if Ugwumba takes over as the Deputy Governor, Chief Rochas Okorocha can resign his office as the state chief executive and Ugwumba Uche Nwosu can take over as the state chief executive of Imo state and then use his office as the governor of Imo state to run in any political party of his choice for 2019 Imo governorship election. My governor, this is a sure way to victory for your ambition in making sure that Ugwumba succeeds you".
Now that Gov. Rochas has heeded to my noble advice by attempting to fulfill all the necessary legal procedure in impeaching his deputy, it is very necessary to note that Prince Eze Madumere has gone to a Federal High Court in Abuja to halt the impeachment plan. Prince Eze Madumere knows quite well that Gov. Rochas whom he claimed to have served for twenty five years does not obey court orders. This may however inform why top officials in the Rescue Mission government of Rochas are jostling for the number two position.
Several Newspapers in Owerri on Friday last week reported that the Speaker of Imo House of Assembly Rt. Hon. Acho Ihim may replace Prince Eze Madumere. If this is true, what becomes of my position? Gov. Rochas should not make the mistake of replacing Madumere with Rt. Hon Acho Ihim or with anyone else because I am very much available for the job. I am Gov. Rochas Okorocha's unpaid adviser and I deserve to be made the deputy governor of Imo State.
If Governor Rochas fails to use me for some political reasons, he should not use the Speaker of Imo House of Assembly as he may lose the private employed law makers oh sorry I mean Imo Law Makers. If you fail to use The Reformer Protus Nathan Uzorma as your deputy after impeaching Eze Madumere, you should go for my younger brother Ugwumba Uche Nwosu so that our dream will be realized.
My dear Governor, as incorruptible and noble as you are, you deserve your unpaid adviser to succeed Prince Eze Madumere. Gov.Rochas make me your Deputy Governor, I will deal with those that are not agburu anyi. In fact, the coalition in APC in Imo will be sent out of APC if I become your deputy. You may say that I have not been adopted by a Traditional Ruler from Owerri zone as to be qualified for the position. I am ready to be adopted by any Owerri family. I am a noble son of Orlu zone, from a Royal Family too but I am now available for adoption in case anyone is interested. Ha ha ha ha ha ha! Na laugh I dey laugh! In the words of Fredrick Nietzsche, "Everything evil I except from thee, therefore I demand from thee what is good."
en
SOURCE :The Nigerian Voice (opinions)