Gov. Rochas, Why Won't Apc Alliance Fight Back?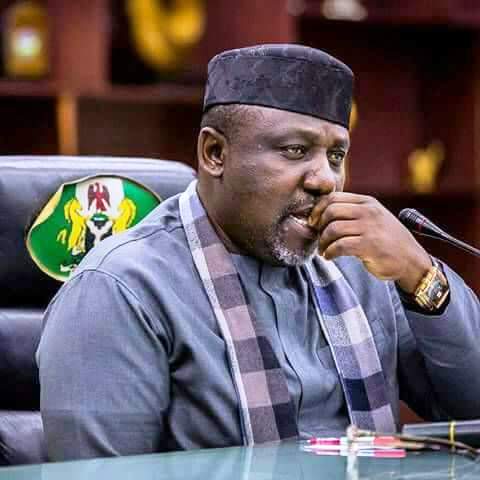 Nemesis is a cosmic drama acted upon the psyche of earth dwellers in order for them to learn a big lesion in the afterlife experience. As a scholar of the great life, I am yet to uncover the place of forgiveness in line with the universal principle of cause and effect-sowing and reaping, retribution, or nemesis. Why should people still suffer the effect of the wrong committed even after the divine has forgiven them? Is forgiveness incapable of destroying the effect of wrong doing? Well, Philosophy of Religion has a better explanation though limited in ultimate sense. This is not my major concern here but suffice it to say that Gov. Rochas has been forgiven of all his sins and wrong doings but he is presently fighting the battle of the invisibles with nemesis-action and reaction.
Leo Tolstoy in his fable on the Vainglorious Cockerel narrated that "Two cockerels fought on a dungeon- One cockerel was the stronger: he vanquished the other and drove him from the dung heap. All the hens gathered around the cockerel, and began to laud him. The cockerel wanted his strength and glory to be known in the next yard. He flew on top of the barn, flapped his wings, and crowed in a loud voice: 'Look at me, all of you. I am a victorious cockerel. No other cockerel in the world has such strength as I.' The cockerel had not finished, when an eagle killed him, seized him in his claws, and carried him to his next."
The story above looks like what is happening in Imo APC today, between the Governor, Rochas Okorocha and the aggrieved Imo APC chieftains. Pride goes before a fall, so said the biblical Proverb. When a man abandons his human nature and its characteristic frailty to assume God, and not only the assumption, but making co-mortals be aware of their mere and hopeless mortality. Governor Okorocha is conceited like the vainglorious cockerel.
Few years ago, I wrote an article on the unholy alliance between Okorocha and his new found friends, as well as another article on his desperation. His entrance into the seat of Douglas in 2011 and 2015 were from backdrops that have nemesis at the entrance doors. First, it was Ohakim that was heat by the unholy coalition that ousted him out, that was not enough, and then came in 2015 when all expected Rochas to be true to his promises that he will rule for just one tenure. He refused and plunged to the dustbin the Imo charter of equity for power rotation among the three senatorial zones in the State. His second tenure made Orlu zone rule Imo for 16 years within the 20 years of modern democracy in the State (since 1999), and Okigwe zone for 4 years, with Owerri zone at zero.
When it was almost clear that Rt. Hon Emeka Ihedioha was winning the 2015 gubernatorial election in Imo State, Gov Okorocha and Senator Araraume had a dying minute unholy alliance, the like he did to Engr. Charles Ugwu in 2007. Araraume had his PDP structure state-wide pushed to support Rochas, and it contributed immensely to his victory in 2015 over Emeka Ihedioha. The duo formed unholy alliance that has time limit. The time of its expiration has come, and boomerangs.
But would one blame Araraume and his Allied Forces? It is unmanly to be used by a fellow man that one is better than, and be dumped by him. Araraume deserved some degree of respect from Okorocha, but instead, he opened public verbal wars with him, declaring that he can never be Governor in Imo State. When the Senator condemned the attack meted on Archbishop Obinna, Rochas not only got infuriated, but declared Araraume unfit to be Governor of Imo State, and the verbal attacks crossed boundaries of antagonism. Why wouldn't he fight back?
The distinguished Senator Hope Uzodinma also made bolt to quit the PDP where he is a serving senator, to defect to the APC, and Governor Okorocha as the apex leader of the party in Imo State, made bolt to call him names and declare that he does not know that Uzodinma is in APC and that he entered the party from the window than the door. Why wouldn't he fight back?
Senator Benjamin Uwajumogu also received his own share of the Governor's assault. He was attacked and condemned because of his stand against the choice of his son-in-law, Ugwumba Uche Nwosu, which is a self-opinion that deserves no condemnation. He was threatened and lashed with bad words. Why wouldn't he react badly?
In similar manner, the Imo State APC Excos were treated like a bunch of banana on Governor Okorocha's table. He manipulated the list, changing virtually all of them, and had them replaced with those he felt would be too loyal to be used as delegates that will elect Uche Nwosu as APC candidate for the 2019 governorship election in Imo State. Even the party's chairman, Hilary Ekeh, carried the Governor's brief case for him from Owerri to Abuja, without knowing that the list he was going with Rochas to submit, does not have his name, but he as State chairman was changed in the list with another person. Why wouldn't he fight back?
Prince Eze Madumere for 2 good decades served Governor Okorocha and was his closest ally even to the extent of being detained during the 2011 gubernatorial elections in the State, as he fought defiantly in defence of his principal. But what did Rochas do to him? He turned him into a ceremonial Deputy Governor, having the Chief Of Staff and his deputies as Deputy Governors in the State. These were not enough for him, he declared Eze Madumere unserious politician and unfit for Governorship seat, and went on to declare him endorsed for the Owerri senatorial seat. As if that was not enough, he went on and dealt with him in frustrating manners. Why wouldn't he fight back?
Sir Jude Ejiogu, was appointed by Governor Okorocha into different posts in the State, he rose to being the SSG and was unceremoniously removed for no cause other than Rochas' instinct that his continuous stay in government will mar the chances of his son-in-law succeeding him as Governor of Imo State, come 2019. Feelers were high and speculations were that he wanted to do to him what Gov Akpabio did to Udoma. I was very speculative in that direction and thus wrote "Imo 2019, All Eyes on Jude Ejiogu." But today, what happened? He abandoned Ejiogu, jettisoned all his sacrifices during the 2015 governorship election, and threw him to the cleaners. These being not enough, he was grandiloquently declared incapable and incredible to rule Imo. Why wouldn't he fight back?
When Senator Osita Izunaso contested for the Orlu senatorial zone election, he crashed with Hope Uzodinma, and Rochas was only interested in his former ally, Rt. Hon Ben Uwajumogu. He pursued his case to its logical conclusion, which saw the removal of Senator Athan Achonu from the seat and replacing him with Uwajumogu. What is happening is the ghost of Senator Athan Achonu's senatorial seat that is torturing both Rochas and Uwajumogu. Unholy alliance, which the desperate Rochas could not hold himself from, and endorsed Prof Obiareri for the Okigwe senatorial seat that Uwajumogu is an incumbent senator, and vowed to support him to the removal of Senator Uwajumogu. Why wouldn't he fight back?
Now the travellers are back, all covered with the debts of nemesis. Rochas has not seen anything. This is the beginning. What happened is a mere prelude to future disasters ahead. The remedy is to reinstate the charter of equity that he shattered in 2011 and 2015, which had Okigwe zone denied their second tenure in 2011 and Owerri zone denied their turn in 2015, and now he wants these denials to be perpetuated. The turn has to be returned to Owerri and not Rochas installing his son-in-law, meaning that both Owerri and Okigwe zones do not have any worthy politician to rule Imo.
Now that the LGA, State and national congresses and convention have taken place, the grand fall of Rochas is obvious. What happened to Udenwa in 2007 will be milder to what awaits the proud Governor who has stepped on innumerable toes in the state in his policies, programmes, and leadership style in the State. Now is payback time. The eventful time when nature will take account of misdeeds of mischievous actors has come. Rochas has murdered sleep, and what he is seeing is just the beginning.
en
SOURCE :The Nigerian Voice (opinions)