Governor Rochas Okorocha declares His Son-in-law As successor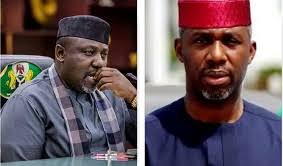 Governor Rochas Okorocha has openly declared his son-in-law and Chief of Staff of Imo State as his preferred successor.
The governor unveiled his plot in a widely publicised press release issued on his behalf by his Chief Press Secretary, Mr Sam Onwuemeodo.
In what many Imolites described as the governor's "schemming ways", he feined ignorance of his son-in-law's intention to contest for Imo State APC governorship ticket "The governor stated that although the Chief of Staff has not told him that he wants to run for the governorship of the State, but if he comes out he would support him, adding that he has known Uche Nwosu over the years but does not know his parents and described him as an honest man who, whatever he tells you in the morning is what he will tell you in the evening".
"Is Rochas visually impaired not to have seen his son-in-law's posters and branded campaign vehicles all over the state"? asked a discussant at the popular Control Post newspaper stand.
Rochas may have schemmed his way to government House Imo State but in this latest plot to subvert justice, equity and fairness, he will be resisted to the point of submission. Imo State is a state known for her defiance to evil. As Rochas has made this declaration today, he has drawn a battle line between the Imo people and his gang.
As Rochas imagines Imo State to be his conquared kingdom which he has enmarked for himself, his family and extended family, it is pertinent for him to learn that it is not going to be business as usual. Like every protagonist in a tragicomedy, an unexpected outcome from an unexpected domain will definetely climax the illusion known as "Rochas Okorocha". It seems that Plato may have had Rochas in mind when he said: "Whatever deceives men seems to produce a magical enchantment". The result of the scam will continue to reside in his mind as "magical", far away from reality because the reality will soon be unveiled to him.
Albert Einstein describes politics as a "pendulum whose swings between anarchy and tyranny are fueled by perpetually rejuvenated illusions." If not for the trance and perpetual illusions that Rochas Okorocha dwells in, how would such affront germinate in his brain.
Owerri zone can not be stampeded to accept injustice because Rochas wants to foist his son-in-law on Imolites. Everybody knows that this is a desperate move to have him cover all the lootings that has been meted aginst the economy of the state by the immediate and extended families of Rochas Okorocha. Owerri zone have supported Okigwe and Orlu zones in the spirit of fairness and equity, hence it is unequivocably beyond Rochas.
Endorsement of Uche Nwosu by his father-in-law as his successor is already a disaster on the candidacy of Uche Nwosu. It means that any other candidate from any other political party can comfortably win with a very high margin. It is not a hidden fact that the brand "Rochas Okorocha" is politically dead in Imo State and nationwide. Imolites are conscious of the "illusion" known as Rochas Okorocha. Through divine intervention have began. It could only be divine that this open endorsement can happen. It is only divine that Imo State pensioners, civil servants, business owners and traders have been alerted of an impending evil if Uche Nwosu is allowed to take over from his father-in-law.
Kenneth Nwoke writes from Akwakuma
en
SOURCE :The Nigerian Voice (politics)