Govt. should partner with NAHCON, NCPC on holy trips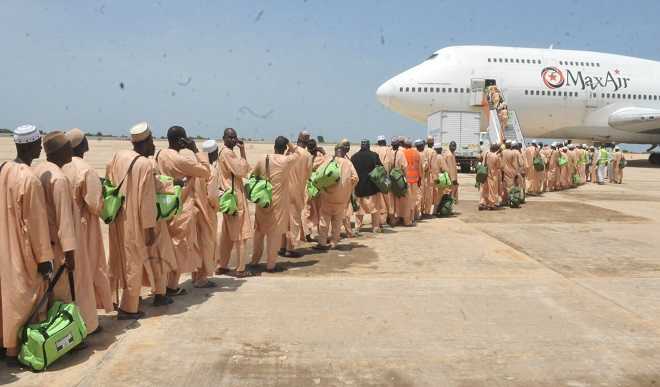 There is no unadulterated fact in the call by some Nigerian non-pluralists on government to desist from involving itself in religious activities in Nigeria especially the holy journeys to Makkah and Jerusalem for Muslims and Christians respectively. Such call is definitely uncalled for because it is made out of myopic understanding of the all-round responsibilities of government towards its citizens on one hand, and the super influence of religion not only on Nigerians but on mankind in general. The power of prayers and its manifestation in practical life cannot also be overemphasized.
From the onset, it is important for well-meaning Nigerian Muslims and Christians to continue to appeal passionately to the Federal Government not to be dissuaded in partnering with them in achieving what is dear to them, in the simplest term, what they cannot live without. So, if government must feed, shelter and secure its citizens, it must also aid them in ensuring freedom and success of their constitutionally recognized associations. Every single citizen of Nigeria has the right to be free, protected and supported in every legitimate endeavour he or she may wish to pursue. Holy trips for spiritual elevation of citizens cannot be an exception.
Religion and man are old inseparable friends, joined by God Almighty. Anyone who attempts to disjoin them toils in vain. So, the earlier the elements of anti-pluralism know it, the better. This kind of people claims to be sympathetic with the government over its financial contributions to the two holy trips, but in the actual sense, are fanning the amber of war between the government and its citizens.
Yes, the two holy trips are attached to individualistic desires because not all Nigerians are Muslims or Christians. But skeletal statistics show that over 85 percent of the Nigerian citizenry are attached to Islam and Christianity. And if this glaring fact remains undisputable, then the federal government has all constitutional backup to support them wherever and whenever such supports arise.
For the long past, the federal government has been supportive to the Muslims and Christians in many ways to ease their yearly visits to their holy lands in fulfillment of their religious obligations. One of the very critical areas of the support is the grant of concessionary exchange rate to the US dollars which is the transaction currency for the holy trips.
This year should not be different. Even in recession, government has not stopped spending on matters that do not have direct impact on 85 percent of the Nigerian population. However little the concessionary rate may be, it is very significant that government shows its commitment to the affairs of its citizens in whatever they are involved. Last year, the government granted both Muslim and Christian pilgrimage bodies a concessionary exchange rate respectively of N197 and N150 to US$1. Something more tangible should be declared this year. Government should not allow these all important journeys by large majority of its citizens to be treated with levity by transacting them with the official rate of N305 to US$1 for 2017.
Our great President Muhammadu Buhari, his strong loyal and dedicated lieutenant Vice President, Prof. Yemi Osibanjo, Senate President Dr. Bukola Saraki, Speaker Yakubu Dogara and Chief Justice of the Federation, Hon. Justice Walter Samuel Nkanu Onnoghen should hear the cry of Nigerian Muslims and Christians in this regard. The five-man team can cause a relief by granting a concessionary rate of N200 or N250 to US$1 to help in easing 2017 pilgrimages to the Holy Lands.
I recall that in one of my write-ups in relation to this topic last year, I was able to pinpoint some areas where government spends huge sums of money, areas that have no practical impacts on majority of Nigerians. What business has the federal government in spending on sports which has no affection to millions of Nigerians? There is even a ministry of sports and several other federal government agencies and parastatals doing relatively the same work but get huge amounts from the national budget every year.
What business has the federal government in rescuing people who may have been directed by their own religions – secret cults – to drown in lagoons, commit suicide or engage in treacherous activities against the state and its citizens? Those may be their own religions' demands as part of their own spiritual attainment. Who knows? Nay, what business has government to hold international events with huge amounts just for name making? And many more jamboree gatherings.
I want to appeal to those making this call on government to have a rethink. Government must disregard it. Government must resist any insinuations that it is for the few and not for all Nigerians. Even if the callers are not Muslims or Christians, the effect of the holy journeys on Nigeria as a nation cannot be undermined. Prayers by the citizens in those holy places cannot be underestimated in the resolutions of critical situations Nigeria had found itself. Sincere prayers are well-known to be antidotes to physical and spiritual problems.
However, it is undisputable that many religious organizations have reduced themselves to mere moneymaking entities, unfortunately downplaying the hallowed aims and objectives for which they are supposed to be established in the first place. Many of them have been overwhelmingly overcome by materialism leaving the enforcement or inculcation of religious values on their members, completely or partly, out of schedule.
The religious values, undoubtedly if upheld and imbibed by members, are the practical solutions to the moral and political conundrums in any given society in particular and nation like Nigeria. The moral decadence, the economic quagmire, the political brouhaha, the socio-cultural ruckuses and kleptomaniac penchants pervading the society have solutions in the Holy Books of Islam and Christianity. So it baffles the many conscious minds that the few unconscious minds should ever feel that government's supports to adherents of these values are wasteful.
Islam and Christianity preaches peace, love and humanity and their proponents in Nigeria have tried their best to ensure harmonious coexistence amongst their followers and Nigerians. How can one imagine a Nigeria without Mosques or Churches? On this note, I wish to suggest like others have, that the federal government establish a ministry of religious affairs instead of the position of the special adviser to the president on religious matters. That will protect the interest of the religious majorities and minorities in Nigeria.
Despite the existence of many organizations with direct or partial attachments to the two main religions in Nigeria, the National Hajj Commission of Nigeria (NAHCON) and the Nigerian Christian Pilgrims Commission (NCPC) stand out as strong religious bodies which have the potentials of bridging gaps in religious misunderstandings. Both commissions can foster general unity, peace and progress amongst their followers in particular and Nigeria in general, thus the need for the federal government to continue to partner with them in all ramifications for the overall benefits of the Nigerian pilgrims.
Muhammad Ajahis an advocate of humanity, peace and good governance in Abuja. E-mail [email protected]
en
SOURCE :The Nigerian Voice (opinions)