Have I told you school is a problem in Nigeria?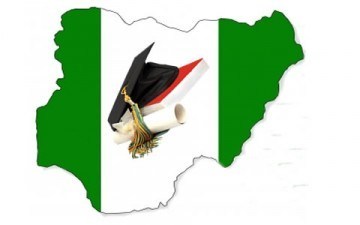 First, in his book titled "Let's Discuss Education", James Elliot has described school in Nigeria as where children go when their parents go to work. Over the years, I have also realised that many of those in the master's classes of Nigerian universities are people who did not get jobs after their first degree and would not want to stay at home. Ask them what they need a master's degree for, their response: "So I can boost my chances in the labour market". Trust me, this is not a very reasonable reason. Let me detail you with the problem with school and schooling in Nigeria.
Schooling in Nigeria has lost its evaluative potency. Any averagely rascally young person can dumbly yet successfully go through all stages of schooling in Nigeria. If not, how else do we explain the case of undergraduates of computer science who cannot tell the function of Ctrl V? What should we say of undergraduates of English who cannot construct simple and grammatical sentences? Now, are you a Nigerian? Do you think any Nigerian learning hairdressing can go through apprenticeship for one year without being able to, at least, make "washing and setting"? I am sure you know it's a NO! The boss would have contacted the parents for a spiritual intervention. But school children can be in Commercial department at SS2 and be unable to define partnership after four years in secondary school. Maybe we should ask, what then is the problem with schools and schooling in Nigeria?
The problem is simply that schooling is made to look like a fundamental human right in Nigeria. Dear readers, it is not. Going to school is one of the several things a child can do in life. Schooling is one of the many routes to being useful in life; there are other ways. Quite unfortunately, school is one of the things children in Nigeria do without their consent. How dare you tell your Nigerian parents that you don't want to go to school! You just must! Realistically however, compulsory schooling ends in JSS 3. This is why it is called BASIC 9. This basic education equips young ones with basic literacy and numeracy skills. Young people, after this compulsory schooling, should be helped to determine what they want to do in life based on their passion and ability.
Those who can use their "head" (cognitive domain) should proceed to the senior secondary school. Those who can use their "hand" (psychomotor domain) should proceed to technical and vocational schools or to learn a trade or to do whatever their creativity can give birth to. Importantly, all kinds of children, both those who use their head and those who use their hand, should be nurtured to use their "heart" which is the affective domain. This is the realm of love, compassion and good manners which Yoruba call "omoluabi".
School, which is called formal education, is just one of the forms of education which should be compulsory up to the end of its basic stage which is JSS 3 or Basic 9 in Nigeria. Afterwards, attention should be given to the potentials of young people in their career path. Let those who want to dance, dance. Let those who want to act, act. Let those who want sing, sing. At the end, education is about being useful and this is not always tied to school and schooling. Let school be a choice. Let students be sure of what they want. Let it also be clear that we will not all graduate to use our knowledge directly by applying for jobs. The tertiary education for some people will/should help them garnish their chosen paths.
I end with Myles Munroe's quote, "When purpose is not understood, abuse is inevitable". Find your purpose.
(c) 2019 Ganiu Abisoye Bamgbose (GAB)
en
SOURCE :The Nigerian Voice (local news)