HEALTH BENEFITS OF TOMATO CONSUMTION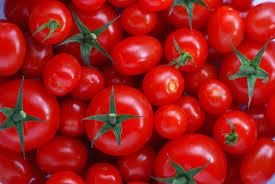 Tomato has been referred to as a "functional food," a food that goes beyond providing just basic nutrition. Due to their beneficial phytochemicals such as lycopene, tomatoes also play a role in preventing chronic disease and deliver other health benefits
Tomatoes are packed full of beneficial nutrients and antioxidants and are a rich source of vitamins A and C and folic acid.
The benefits of consuming fruits and vegetables of all kinds, including tomatoes, are impressive. As the proportion of plant foods in the diet increases, the risk of heart disease, diabetes, and cancer goes down.
High fruit and vegetable intake is also associated with healthy skin and hair, increased energy and lower weight. Increasing consumption of fruits and vegetables significantly decreases the risk of obesity and overall mortality.
As an excellent source of vitamin C and other antioxidants , tomatoes can help combat the formation of free radicals known to cause cancer.
Maintaining a low sodium intake helps to keep blood pressure healthy; however, increasing potassium intake may be just as important because of its vasodilation effects.
The fiber, potassium, vitamin C and choline content in tomatoes all support heart health. An increase in potassium intake along with a decrease in sodium intake is the most important dietary change that the average person can make to reduce their risk of cardiovascular disease.
Studies have shown that people with type 1 diabetes who consume high-fiber diets have lower blood glucose levels, while people with type 2 diabetes may have improved blood sugar, lipids and insulin levels. One cup of cherry tomatoes provides about 2 grams of fiber.
Eating foods that are high in water content and fiber like tomatoes can help with hydration and promote regular bowel movements. Fiber adds bulk to stool and is essential for minimizing constipation.
Tomatoes are a rich source of lycopene, lutein and beta-carotene, powerful antioxidants that have been shown to protect the eyes against light-induced damage associated with the development of cataracts and age-related macular degeneration.
Adequate folic acid intake is essential before and during pregnancy to protect against neural tube defects in infants.
Jesse Tafida, a 400 level student of the department of Mass Communication, University Of Maiduguri.
SOURCE: The Nigerian Voice (local news)