Health Union Task FG To Pay Members Outstanding Benefits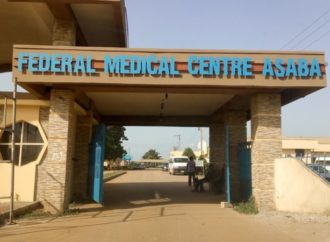 By Kenneth Orusi, The Nigerian Voice, Asaba
The Joint Health Sector Union (JOHESU), Federal Medical Center (FMC), Asaba Chapter, has registered a protest
over the maltreatment of its Union members by officials of Federal Ministry of Finance, Abuja, over the non-payment of their outstanding entitlements.
In a protest letter, addressed to the Hon. Minister, Federal Ministry of Finance, Abuja, with attention to the Director, Presidential Initiative On Continuous Audit (PICA), Abuja, the leader of the group, Comrade Akinlaye Davidson expressed concern that health workers are being owed promotion arrears since 2013.
Comrade Akinlaye also listed that non-payment of October 2016 salary and illegal deductions from their December,
2014 Salary in addition to other maltreatments as reasons for the protest.
The protest letter by the Union, titled: PROTEST AGAINST MALTREATMENT OF WORKERS AT FMC ASABA DELTA STATE BY OFFICIALS OF FEDERAL MINISTRY OF FINANCE ABUJA and dated Monday, 15th May, 2017,
any obtained by our correspondent In Asaba reads thus:"This is to register our protest against the officials of Federal Ministry of Finance Abuja for refusing to pay FMC Asaba workers our entitlements. "It is saddening to note that we are yet to be paid the following entitlements: October 2016 Salary; Deductions illegally made from Our December, 2014 Salary; and Promotion Areas for 2013, 2014, 2015 and 2016 respectively. "In view of these developments, we the workers of Federal Medical Center Asaba under the umbrella of Joint Health Workers Union (JOHESU), register our displeasure but remain peaceful and resolute on the believe that The Honourable Minister, Director, Presidential Initiative on Continuous Audit (PICA) and all concerned's attention will be drawn to this and take speedy actions to mitigate the sufferings of our members due to non-payment of these monies".
"While other health institutions in the same ministry have been paid these monies, the question is, why is FMC
Asaba case different? " It is our firm believe that th:e government of change is not about short-changing any particular
institution. What is good for the goose is also good for the gander."
en
SOURCE :The Nigerian Voice (local news)