Health Workers Charged To Stem Malnutrition Tides In Delta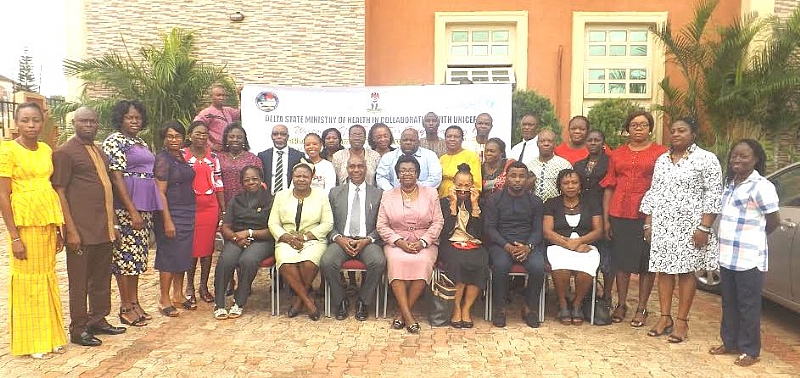 By Kenneth Orusi, The Nigerian Voice, Asaba
A 6-Day training for community health workers in Delta State have ended with a charge on them to embark on intensive case finding of malnourished children in their various communities with the view to identifying the cases early enough and stem the worrisome tide.
The Permanent Secretary, Ministry of Health, Dr. (Mrs.) Minnie Oseji, gave the call during a training on In-patient Management of Severe Acute Malnutrition organized by the State Ministry of Health in collaboration with UNICEF in Asaba .
According to her, the training programme is a major landmark in the fight against severe acute malnutrition in the State as it would avail the participants the opportunity to upgrade their skills in detecting and addressing severe malnutrition cases.
Dr. Oseji, explained that the State Government have been identifying and rehabilitating cases of severe acute malnutrition during routine activities and campaigns since 2014 and this has resulted in renewed interests in addressing this problem by several stakeholders such as the wife of the state governor, Dame Edith Okowa, UNICEF and many others.
She listed other efforts by the State Government so far to promote nutrition to include control of micro nutrient deficiency, promotion of Infant and Young Child Feeding including exclusive breastfeeding, celebration of World Breastfeeding Days and adherence to the international code for marketing of breast milk substitute.
Explaining further, Dr. Oseji said another major and important effort at addressing malnutrition in the State included the food demonstrations at the health facility and community level, an activity that her Excellency, the Wife of the Governor who is also the UNICEF Nutrition Champion promoted in all the Council Areas through her pet project the 05 Initiative's grassroots free medical outreaches.
Dr. Oseji who referred to the Multiple Indicator Cluster Survey (MICS) Report of 2011/12 said that exclusive breastfeeding stood at 9.3%; stunting and severe stunting at 21.9 and 9.4% respectively while that of 2016/17 stated that exclusive breastfeeding stood at 25.2%; stunting and severe stunting at 16.3 and 4.6% respectively.
She noted that though there was an improvement from the survey report yet there is the need for more efforts to reduce the worrisome indices.
She revealed measures mapped out by the State Government to improve the nutrition indices by the Year 2020 to include dissemination of the approved Nutrition Policy and Strategic Plan of Action for nutrition to stakeholders for implementation; increase breastfeeding support groups which will be monitored closely; ward development committees that will be empowered to monitor and support nutrition programmes and increase collaboration between the Health and Agriculture ministries.
Participants that attended the training were consultant pediatric doctors and paediatric nurses drawn from selected secondary and tertiary Health Workers in Delta State.
en
SOURCE :The Nigerian Voice (local news)