Herdsmen bear arms, Gov Ishaku Corrects Buhari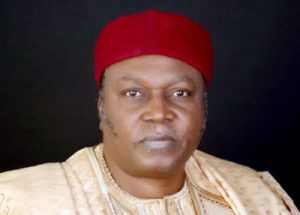 Governor Darius Ishaku of Taraba State has disagreed with President Muhammadu Buhari, insisting that Fulani herdsmen carry arms.
Buhari had during a meeting with the United States President, Donald Trump, claimed that herdsmen move around with sticks and not guns, insisting that the killings were being perpetrated by some fighters trained by the government of the late Muamar Gaddafi in Libya.
However, the Taraba governor said herdsmen carry guns.
Ishaku said this during an interview with journalists shortly after receiving an award from the Nigerian Medical Association in Abuja on Saturday.
When asked if the President's claim was true that herdsmen don't bear arms, the governor said, "Absolutely, it is not true. Who kills who? It is not imaginary. People are being killed by AK-47 and we have to do something to stop it."
Ishaku, who has been governor for nearly three years, noted that Taraba used to be the most peaceful state in the North-East geopolitical zone before the current crisis.
He noted that nearly 150,000 persons were displaced and this had put a strain on the state's health facilities.
The governor added, "The insecurity has put a lot of pressure on our health facilities much more than you would anticipate. When you have between 100,000 and 150,000 displaced persons and in the North-East, Taraba used to be the safest but of course, we are having our own share of the herdsmen problem and that has added a lot to our health services.
"So, it is a strain on us which means we have to do more, we have to engage more doctors, nurses, specialists and we thank God that we are succeeding."
The governor thanked the NMA for the award, promising that he would not rest on his laurels.
"This award is very elevating. It will spur us to do more. This is my third year in office. We are reconstructing three new hospitals in our three senatorial zones and we are putting some of the local government units in shape. Most importantly, we are equipping them as much as possible with modern equipment," he said.
Credit: PINCH
en
SOURCE :The Nigerian Voice (politics)