How Evans the billionaire kidnapper plotted prison escape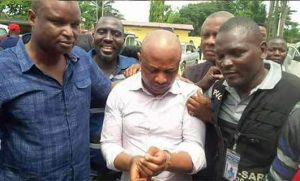 Billionaire kidnapper, Onwumadike Chukwudumeme, aka Evans, is in the news again. It appears that even in prison, his criminal instincts have not left him.
Always to escape from his prison cell has been uncovered by men of the Nigerian Police Force.
The man notorious for taking the act of kidnapping to million dollar ransome level Evans is allegedly attempted to give between $50,000 and $100,000 to one of the guards manning his cell to facilitate his escape, The Nation reports.
The report said the kidnap kingpin was plotting the escape before his recent arraignment in court.
A source who was quoted in the report, said Evans was allegedly coordinating his escape bid with some members of his gang by telephone which he obtained through "suspicious" means.
The source said, "When Evans was in our custody, he tried to escape but we were able to abort all his plans. We discovered that he had access to phones which were hidden in the middle of loaves of bread, eba, semovita and so on.
"He was making calls from these smuggled phones in the middle of the night, making arrangements with some yet to be identified members of his gang to arrange for his escape.
"We intercepted how he was luring one of the guards with about $50,000 to $100,000. He wanted an insider to serve as informant to him and members of his gang."
en
SOURCE :The Nigerian Voice (local news)