How Femi Kuti's Ex-Wife, Funke Cheated Death After Severe Asthma Attack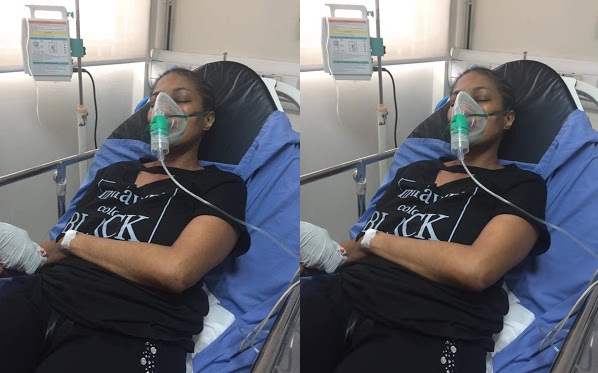 Source: Nathan Nathaniel Ekpo/Nollywoodgists.com
Thank God for saving the life of Funke, the ex wife of Afrobeat star, Femi Kuti, as she survived a severe asthma attack that almost took her life.
Funke's human right mother Laila St Matthew Daniel narrated the ordeal witnessed at the hospital as she was finally saved in another hospital.
"Traumatic Medical drama for me today! Some hospitals are death traps! My oldest daughter Funke had a terrible asthma attack this morning. She was rushed to the Healing Strips Hospital in front of Four Points. By this time her sister Oyinda had got there whilst I was on my way. Then I got another call that they were in an Ambulance on way to St. Nicholas. Why?
"It turned out that the Doctor and 'nurses' at Healing Strips were clueless on how to handle the case and were running round in circles! Before they could even operate their oxygen, my daughter was going into spasms – at this panic point Oyinda shouted that they should get an oxygen ambulance to take her to St. Nicholas – the Dr, obviously relieved, agreed and arranged one. When they got here the nurse that accompanied her couldn't answer any questions. Imagine!!!! Treatment began instantaneously because Funke was at danger point as of then – that was when I arrived!
"I must commend the medical professionalism of the Doctor and nurses – the way they took control was amazing. Equipments, on point!!! She had to go through series of tests and though she had another relapse, she stabilized and is under admission overnight to observe her.
There are all sorts of medical assistance. Some hospitals are just for general practice and once a critical case comes they should refer! Not try to give treatment they can't handle which could prove fatal for the patient. I thank God for His intervention today! I want to confirm that We do have good hospitals in Nigeria."
en