How students waste hours on social media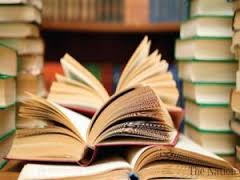 It is indisputable that vast numbers of students have completely lost interest in reading, both on and out of the higher institutions' walls of learning. To say that the reading competition and zeal among students was declining is simply stating the obvious.
From Lagos to Ebonyi and Calabar to Sokoto, the story remains the same – dying reading culture. The unhealthy development stares everyone in the face. Educationists have asked questions on what might have gone wrong, but the answer to the puzzles seem hanging on the air.
Since students in every field are expected to read and keep abreast of what is happening around them, it has become worrisome how they have, over the years, veered off, deviated to embrace and toe the path of poor reading habit.
No thanks to advent of the social media. Many a students are believed to spend quality time surfing the internet on gossips and other immaterial issues.
Different studies reveal that 40 per cent of Nigerian adults never finish reading a fiction book from cover to cover after leaving school. And there are other studies which show that about 30 million Nigerians have graduated from secondary school with poor reading skills, attributing it to the poor habit cultivated during their stay at school.
The reporters gathered at the University of Maiduguri that, reading has become an old fashion to most students; even the few that read mostly do so to pass examinations. The libraries that are meant to be place of reading have been converted into browsing centre because of the good network server, place of reference and copying of notes as only few students are seen reading in the library at most times. Obviously, most students now find it difficult to read for long.
Mr. Cornelius Audu, a library officer at the Ramat library at UNIMAID said: "students prefer the Electronic-library than going the self and get books because most students like easy things and don't want to stress themselves looking for books or reading them, the students no more read hard and for a long time like before, and as a result of that the future may not have qualified people in different field.
"Most of the students you see here are either in part one or part two; they mostly come here to get textbooks and other educational material. Students don't read on their own volition anymore. Whenever you see many students here, it's either they have test, assignment or examination which is opposite to what we have in the past five years. Then, students read every day and even at night as the school library is open even at night"
According to Emmanuel Haruna, a part three student of MBBS, the best he read is two hours before examination and only visits the library to use the free internet service to browse.
"I find reading a bit boring especially school books. I have never visited the library and only read a day to my examinations because school books are boring and mostly they are not worth reading over and over again," said a part two student of Sociology that don't want her name to be mentioned.
Tabitha Amos, a part 1 student of chemistry said: "I read my books every day, and have made it a daily activity after every lecture. Even though I have not visited the library this semester, I surely will as I have enjoyed studying there during my remedial programme."
On the other hand, according to Abdulazeez Kenny, a 500L student of Computer Engineering, he only read at his leisure time. He said he was not among students that see reading as an exercise that is only meant for one to pass examinations. He said he didn't hesitate to read either a novel or textbooks over and over again because he believes that the more he reads, the more he understands.
Also, a 100 level student of Department of Mathematics and Statistics, Dieter Paul Barnabas, said reading has been part of him since his primary school days and he doesn't think it can ever leave him. He said the reading habit became part of him through his parents, who ensures that he one book or the other often.
He said though reading habit among students was reducing drastically but the trend could be likened to high number of courses students offer in schools and to meet up with this, most of them have to focus more on reading to pass exams.
Damilare Johnson Onifade, from the department of Biochemistry 400L, said, he didn't read any book apart from the ones that has to do with his academics. He stated that he didn't have the time to read books that do not have relevance to his academics and particularly examinations.
While Livinus Hidoto, a 200L student of Sociology Department, said he enjoyed reading books at all times even those that has nothing to do with his academics especially inspirational ones.
He stated that he had read many books, such as, "you can make it, if others say you can't", "things fall apart", "women of Owu", "and power of the Holy" and so on. He stressed that as a Social Science student, he read beyond the material given in the class. He cited example between him and science students whose most things they teach them is repeated every now and then, but for his, it not like that.
He further explained that the major cause of the dying reading culture among students is the short academic session which leave students with nothing but to only cram to pass exams.
According to DR Waziri Ahaji Kachami of Veterinary Anatomy, students of today were lazy and hardly read books.
"All they do is check for stuffs online and most of the time not even academic books. The blame falls on the advent of technology. Students read more books during the 90s than now that are because the only source of academic book we had then were found in the libraries and bookshops.
While Engr. Samuel kile of Computer Engineering in the university said: "reading culture is actually declining in the university, students now spend more time on other less relevant things than reading their books.
"Many students now give more of their time to social media and so many other things that they value more to be of interest to them like football and betting, losing interest in studies to what they think has an immediate gain and value to them," he submitted.
Adewole Adebusayo and Rebecca Amos, Mass Communication, University of Maiduguri
SOURCE: The Nigerian Voice (opinions)