How UPP Guber Aspirant, Osita Chidoka Lied on the Anambra Airport City Project… My Response in 50 Tweets!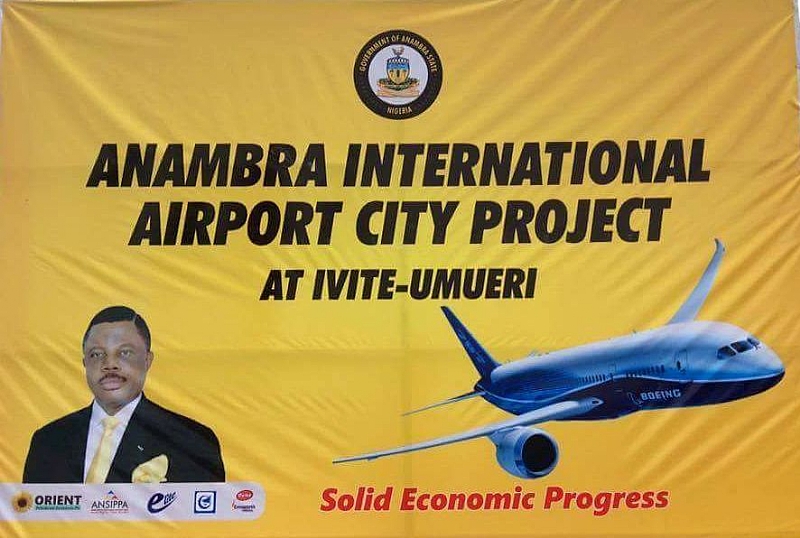 1. Interesting to see much concern over the #AnambraAirport project
2. But pathetic to see men that ought to be better informed deliberately or ignorantly misinforming the people
3. @osita_chidoka compared the cost of building the #AnambraAirport City with the cost for a runaway upgrade in Ethiopia… Imagine that!
4. @osita_chidoka's comment is most unfortunate, either he's not properly informed about the #AnambraAirport project or he has joined the mischief team
5. The truth remains that the State Government is not spending dime for the #AnambraAirport project
6. A governorship aspirant should get informed before public comments to avoid such misleading tweet from @osita_chidoka on #AnambraAirport
7. Anambra had leaders in the past including @osita_chidoka, a former Aviation Minister but no idea of anything like the new #AnambraAirport
8. Some past leaders complained of funds while few others argued on the benefits of an #AnambraAirport
9. Today, @WillieMObiano being visionary has given us #AnambraAiprort project with huge benefits at no cost
10. The State Government only contributed land without a kobo while the investing partners are building the $2bn #AnambraAirport city in Umueri
11. State Government provided land for Orient Petroleum; building access roads to the airport & enabling environment #AnambraAirport
12. Only visionary leadership of leaders like @WillieMObiano can attract such volume of investment. #AnambraAiprot is on PPP arrangement
13. As the State provided enabling environment, the investors will build $2bn #AnambraAirport, Manage and Handover… That's the idea! Unique!
14. It takes a lot of work… Integrity and sincere drives to attract such investment like #AnambraAirport
15. #AnambraAirport is one of the merits of being the Safest State in Nigeria. Investors troop in… Invest in Nigeria, Think Anambra
16. It is historic to attract such Investment, where investors put in $2bn without a dime from the State Government like the #AnambraAirport
17. Orient and its international partners are building #AnambraAirport City, not just an airport…. First of its kind!
18. #AnambraAirport is an Aerotropolis… And not just a control tower with runways
19. #AnambraAirport city project comprises an International Airport with 2 Runways, Malls, Industrial and Business Parks and Airport Hotels.
20. #AnambraAirport will create 1200 direct jobs and over 6,000 indirect jobs, yet government won't spend a kobo on it
21. #AnambraAirport city project has 75 % of the jobs reserved for Ndi Anambra.
22. Host community (Umueri) of #AnambraAirport will receive in perpetuity 3% of the profit via Corporate Social Responsibility.
23. #AnambraAirport city project will be executed under BOMT (Build, Operate, Manage and Transfer). It's a win, win for the government & ndi Anambra
24. The Partners for #AnambraAirport city project are Anambra State Government, Orient Petroleum Resources Plc…. ½
25. Elite International Investment Holding Limited, China Aviation Planning & Development Company Limited 2/2 #AnambraAirport
26. Osike Synergy Nigeria Limited and Emsworth Oil & Gas Limited are the Facilitators #AnambraAirport
27. The partners for #AnambraAirport are interested in building rail lines across the State and possibly inter-connecting the South East region.
28. The #AnambraAirport city project will be ready in three years…. The timeline is clear
29. #AnambraAirport city project involves skills transfer… All with no cost from the State Government
30. #AnambraAirport city project has capacity to land any known aircraft and cargo planes.
31. #AnambraAirport city project involves an aviation fuel dump (First in Nigeria) where aircrafts will fly in to refuel direct from the refinery
32. #AnambraAirport city project contains an aircraft maintenance facility.
33. #AnambraAirport city project also comprise aviation training and services buildings, airport multilevel car parks…
34. The #AnambraAirport city project also involves airport recreational areas, China wholesale depots, emergency service centers, etc.
35. #AnambraAirport city project will facilitate the export of agricultural produce such Anambra Rice, Vegetables and Tubers of Yam.
36. #AnambraAirport city project will facilitate trade & business relation btw ndi Anambra & China as well as other international business destinations
37. #AnambraAirport city project will unleash the untapped potential of increased trade and commercials, ½
38. … manufacturing, innovation, technology transfer, SME growth in Anambra State. #AnambraAirport
39. #AnambraAirport project will create a whole new world of economic opportunities for the South-East.
40. #AnambraAirport is $2bn without a kobo from the government. That's a great deal!
41. All Anambra State provided for #AnambraAirport was land and an enabling environment.
42. #AnambraAirport is a cargo airport for the good of us all. It would boost trade and ultimately lead to infrastructural development.
43. You sure would not expect a 1500 hectares airport with room for expansion to serve a State alone. #AnambraAirport
44. Anambra State is not spending $2bn on airport… The funds will spent by the investing consortium to build a world class #AnambraAirport
45. Don't be fooled by mischief makers, Anambra is not borrowing a kobo for #AnambraAirport
46. Using #AnambraAirport as a point for generating controversy is vile
47. All the State provided for the #AnambraAirport project is the land given to Orient Petroleum… Imagine best airport at least cost
48. #AnambraAirport is at zero cost to the State. First of it's kind in our country
49. The #AnambraAirport city is Build, Operate, Manage and Transfer basis… The investors bear all the cost.
50. Airports can actually cost more than that. #AnambraAirport city project is an aerotropolis comprising the airport & a city project
Beware of those spreading lies against the governor, government and the good people of Anambra State just to clinch power… They are only afraid of the laudable achievements of #ObianoEffect!
Rtn Ifeanyi ANIAGOH
Senior Special Assistant on Social Media to Gov Willie Obiano of Anambra State
President 2017-2018
Rotary Club of Njikoka
I'm Proudly Onye Anambra… Keep Willie Working!
en
SOURCE :The Nigerian Voice (opinions)