I am in the presidential race to release Nigeria from shackles of misrule: Dakwanbo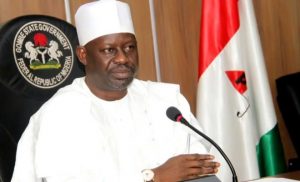 A frontline presidential aspirant on the platform of the Peoples Democratic Party (PDP), Ibrahim Hassan Dankwanbo, said at the weekend that, if elected president in 2019, he would declare war on poverty and injustices in the country.
The Gombe State governor also said with the on-going consultations on his behalf by prominent Nigerians all over the country, he would get the PDP ticket and defeat the presidential candidate of the All Progressives Congress (APC) and candidates of other parties in the February 2019 election.
Dankwambo, a former Accountant-General of the Federation (AGF) and Ph.D holder in Accounting, said the number one priority of a leader was to ensure the happiness of citizens by removing poverty and injustices from the polity.
Dankwambo also said it was wrong for some people to be spreading rumours that he was no longer in the presidential race.
"I am running. And I will win. Extensive consultations have been done and Nigerians will soon see a wind of genuine renaissance blowing all over their land.
"I have come to the realisation that what Nigeria needs at this time is a man who can take the country on a journey to its best self, a man who can re-energise a people who have been so badly led that they have accepted a certain impotence as the reality of their lives".
Declaring that he is the best man for the job, Dankwambo said: "Nigeria needs a man who can fire its imagination, release the people from shackles and make them blossom. I am the man. I don't want to just be President, I want to be the leader of a 180 million-strong army of achievers.
"President is just a title. What Nigeria needs is a leader, a warrior on the frontline in the fight against poverty and all kinds of injustices our people are suffering today."
The 56-year-old politician graduated from the Ahmadu Bello University (ABU), Zaria, Kaduna State in 1985 with a degree in Accounting.
He obtained a Master of Science degree in Economics from the University of Lagos (UNILAG), Akoka, Yaba, in 1992 and a Ph.D in Accounting from Igbinedion University, Okada, Edo State.
He worked at the Central Bank of Nigeria (CBN) from 1988 to 1999 before he was appointed Accountant-General of Gombe State.
He later became the Accountant–General of the Federation on April 20, 2005 and held this office until he resigned to start his campaign for election as governor of Gombe State in January, 2011.
en
SOURCE :The Nigerian Voice (politics)