IBB's New Year Message: Nigeria cannot afford another war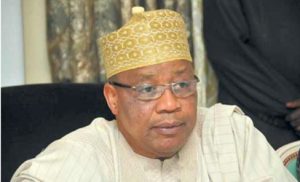 The future of Nigeria is bright, Former military President Ibrahim Babangida, said on Sunday said that Nigeria has gone a long way and the people should renew coimmitment to our shared prosperity.
Babangida in his New Year message did not mince words on his conviction that the future of Nigeria is bright. He expressed the optimism in his New Year Message.
According to him, "Again we have entered another English calendar year with the renewed hope of achieving more than we have achieved in the past years. I therefore use the auspicious occasion to congratulate all Nigerians for making it to the New Year.
We should use the New Year to renew our commitment to our collective prosperity, growth and development by contributing more to nation building and shun all forms of negative tendencies.
"I have the hope that the nation we so sacrifice to keep going and to this age can only be better notwithstanding various security and economic challenges that has become a world order, confronting every country of the world in different magnitude and in different way.
"As Nigerians our unique strengths and characters to overcome our challenges collectively have never been in doubt, what we need now more than ever is to galvanise these unique qualities for the good of all as permissible under a democratic set up.
"We must at this point imbibe the core values of democracy by respecting each other's rights and pursue individual goals in tandem with our national objectives for a better Nigeria, not better individuals that will not reflect on us all.
"A season like the New Year often offer us a new inspiration to give each other support , we should at this point truly believe that we are great in our diversity. In it lies our strength and uniqueness.
"Rather than allowing our diversity to divide us, we should gain courage by looking at the opportunities offer by our diversity and the good aspects of it that make us special people as Nigerians.
"Believe me when I say from my experience as a military officer who fought to keep Nigeria one that we have had difficult times to be where we are today and we will not wish our children, grandchildren and great grandchildren to witness war again as we have made the sacrifice for them.
"This does not however mean that we will not be confronted with challenges. Challenges are part of life, but if we are to be prepared for it, we must first shed our fear of it.
"I say to you compatriots today and truthfully that I am unafraid to be optimistic that the future of Nigeria is bright.
"We are without doubt people with a great past but not without challenges and for the future we will be greater yet with challenge. But we have paid our dues for Nigeria to the extent that we are hopeful that the challenges of the future will not be greater than what we faced in the past
"I urge all of us to take the inspiration offer us by this New Year to build Nigeria of our dream, devoid of divisive tendencies and offer government at all levels our support, bearing in mind that as humans we are fallible. Perfection is a Godly attribute, no matter how we try we can never be perfect
"So as we enter the New Year, we must learn to understand and forgive our honest mistakes because there is no person who has not made mistakes and has the guarantee not to make any in his or her life. With that divine purposes of being capable of making mistakes, we should be able to reason with our leaders, decipher the complexity of our diversity and move on as one great nation we all desire."
en
SOURCE :The Nigerian Voice (politics)