IDPs Cry Out For Food, Shelter, Livelihood Support In Borno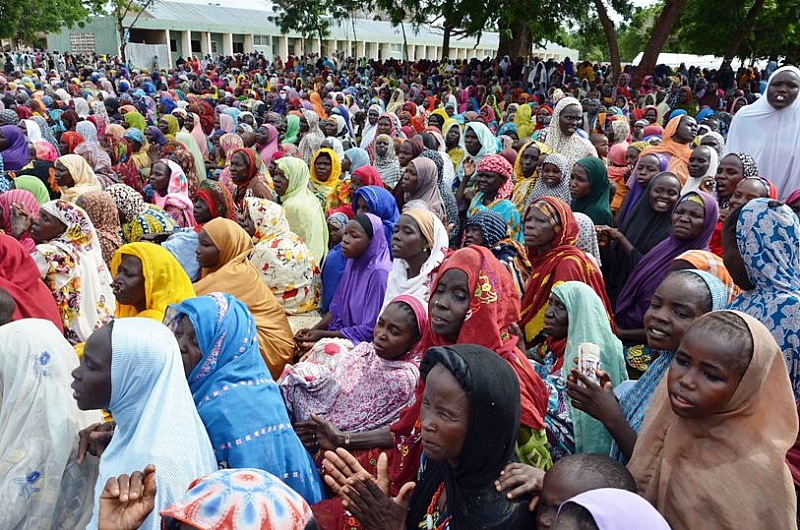 Despite huge amount of resources and dedicated efforts of government at both the federal and state levels to return IDPs back to their host communities , especially, in the most remote and extreme part of the borno north localities liberated by the Nigerian military since 2017 to date, a number of returnee IDPs and some of those still at the IDPs camps have severally complained about their Livelihood at their host communities whenever the Chief of Army Staff, Lt. Gen. Tukur Yusuf Buratai and humanitarian partners visits, lamenting on their ordeals bordering on insufficient, lack of portable water sources, restriction of movement, inaccessibility of their farmlands, observation of their local market days, organizing social ceremonial activities, visits to relations in neighbouring villages among others as well as continuous boko haram terrorists attacks which have compounded the Nigerian military refusing or restricting them access to their games, movements or visitations, etc.
Although, findings revealed that poor road network and insecurity among others have attributed to the military refusing or restricting them access to farmlands at a certain distance except close by where the returnee IDPs could be seen, monitored and protected against the abrupt boko haram insurgents attack on them at their localities while the inadequate sources of water supply, lack of job or work to earn a living and insufficient food as hunger still bites them and their children depended in the availability of food items and relief material's, security provision by the military and couple with condition of road network linking such localities liberated on the side of the government and its parastatals like NEMA and SEMA as well as the humanitarian and development partners.
However, both the Nigerian military, individuals, governments, humanitarian and development partners among others have been said to be providing post insurgency Livelihood programmes and projects in some localities for the returnee IDPs and at host communities through a coordinated and accelerated programmes in collaboration with the government emergency management organizations and humanitarian partners, both local and international NGOs including Dangote Foundation and Melinda and Bill Gate Foundation among other institutions who have been donating and distributing relief materials and food items to the IDPs at both the IDPs Camps and host communities , especially, to the returnee IDPs in some of the liberated areas.
But in several interviews with some IDPs at the IDPs camps , host communities and resettled areas liberated by the Nigerian military, some of the affected IDPs still complain of one or the other thing inspite of the fact that government and humanitarian partners have put efforts and rendered more supports and assistance to the IDPs.
In Bakassi IDPs camp located at the outskirts of Maiduguri city, an IDP from Gwoza LGA of Borno state, Habu Musa Biye said, " Actually, for long, we have been at the camp for years with the hope that one day we will return finally back to out villages."
" But uptil now, government has not resettled us despite aii the promises it has been making all these years. Although, both government and humanitarian partners are trying and doing their best providing us with food and relief materials including medical and healthcare for both our children and wives.
"However we are very tired and want to return home as there is no place like home. We however have shades and shelters but the accommodation is not enough for our children and wives. Most of us are squatting. We are just managing including food provision. We are not free. We are restricted," Habu said.
"We feel as if we are in prison yard. No freedom. We do not get enough food daily here for ourselves and the children. Worst of it all, we can not go out to search for food or money to make ends meet. NO enough clothes to wear. We don't observe market here. We don't socialize or carry out ceremonial activities here. Just living without hope.
"Yes. NEMA, SEMA and other NGOs do come from time to time to give us food and other relief items but they don't cater for us enough as most food items distributed to us are in sharing formula and small quantity that take us just few days.
" While some of our grown children lack where to lay their heads as they can not sleep together with their parents in the same single small room or tent. Some of them do go and squat with their friends that are opprtuned to get a room or tent while others sleep with their relations whose family size are small. Still we are exposed to cold , heat and dust, especially, during that winter period and raining season," Musa said.
While Madam Hannatu Amos, an IDP from Ngoshe village of Gwoza LGA of Borno state said,"Our major problems here is food to eat and something doing. We are idle and have nothing to do unlike in the village where we can go to farm or do one or two things to sale and take care of ourselves especially the children."
"Yes. The children are going to school here but the senior ones have no secondary school at the camp except JSS together with the primary school. Our men too have nothing to do just like our daughters who are grown up who need to marry or attend senior schools.
" Government is aware and keep telling us that we should be patient, very soon we will be relocated back to our communities as security improves and our houses are rehabilitated. But we also learnt from few of us that have willingly returned to Gwoza that the Boko Haram insurgents still attack the villages and cart away food items and money, even kill.
"Sometimes, they told us that the BHTs do abduct our daughters and ladies including youths which is another problem that even when we finally return back to our communities, we will face. That is why we are appealing to government and all relevant authorities to expedite efforts to resettle us to face our new life.
" The livelihood programmes they have for us here particularly for women are not enough to engage us to continue a new life hence even we have something doing, the market environment at the camp is unfavourable for bump harvest and sales. We need to go back home and begin a better and new life ", Hannatu said.
Malam Ishaku Isa Mandara, an IDP in Gomari host community was of the view that," there is no place like home no matter the amount facilities and support from government and humanitarian partners who have been trying and doing their best but can not be as when we as at home."
"We are grateful to all the supporting agencies and organizations who have been assisting us with food and relief materials but interestingly, we want to go back home.
"We have been here for years and idle without money and job to do. Government can not continue to satisfy us and provide our needs daily which are numerous. As such, they have to return us back to our communities to continue with our life", Ishaku said.
An official of CJTF at the camp, Bakaka Modu said, " The important thing here is for the government to return the IDPs back to their homes to enable start a new life.
"Actually, at the camp, things are restricted due to the security challenges and terminal attacks by the Boko Haram insurgents with IEDs on innocent people at the outskirts of the town raising tension and creating confusion where not only the villagers and farmers that were attacked but our colleagues, CJTF and other security agents, have been attacked.
"Some were even killed and others seriously injured rendering their families widows and orphans. We want concerned authorities to hasten efforts to clear the camp as they promised severally since 2017 but uptil date, the IDPs are still at the camp.
" We are aware some have been resettled but many are still in camp and awaiting relocation by the Resettlement or Transition Committee which stated with Konduga, Bama and other LGAs IDPs. The fear most IDPs have here is that the tenure of the present government is fast coming to an end and majority of the IDPs are still on camp.
"We don't have problem with the IDPs and military here as rumoured but the IDPs have been complaining seriously of inadequate food provision and relief materials for their wives and children. As for health and water supply, there is no much problem but more efforts needed to be added to cater for the poor and frustrated IDPs.
" Some of them loss their husband's or wives or children while some of the children are orphans without any parent accompanying them at the camp and nobody knows the whereabout of their parents. Although, we heard government is building schools for them and will feed them free as well cater for them till their adulthood.
"The camp is organized and adequately secured with enough security agencies while NEMA and SEMA in conjunction with some individuals and Humanitarian partners or donor agencies do visit to assist the IDPs with food items and relief materials periodically on routine basis as we do assist them do the distribution to the IDPs directly," Modu said.
A military source at the camp said, "there is no much problem here in terms of security as we have never heard of anything wrong but you know as human beings, there maybe one or two things that could happen and not to our notice or knowledge."
"We are always on alert and ever ready to counter any suspicious movement or activities of unscrupulous elements who don't want peace to reign and disturb innocent people for nothing.
We have enough men on duty and coordinate also other security agencies in the camp to ensure nothing happen as you can see everywhere is peaceful and IDPs are living in peace, going about their normal life", the source said.
SEMA officials at the camp assured that normalcy was on course and things were normal everywhere as the camp has adequate healthcare facilities, water supply sources, mobile court, schools, houses/tents and food items as well as relief materials and condiments were periodically distributed to the IDPs.
They said a times even the military do support the IDPs with medical outreach and food items including the NPF POWA but the population at the camp comprising of about four LGAs still on camp was high while the facilities and amenities could be over stretched but government was doing it best in provision of condiments, food, relief materials and healthcare as well as water supply apart from ensuing clean environment at the camp.
An IDP at the Konduga IDPs camp, Dalori , Bakura Mai Kalla said," we are happy and grateful to all the stakeholders and philanthropists assisting us at the camp but we are tired of staying here and we are eager to vacate the camp because we want to go back home as there is no place better than home no matter how good and nice government and people concerned will assist us".
"Such assistance and support to our wives and children will be better at home than at the camp. Although, we are aware that atimes the boys do attack villages but it is better we return home to live a better life my child. Please tell government and other organizations to come to our help to relocate us back to our host communities to live better.
"Here most of us feel as if we are imprisoned and have no future or hope to live a better life again. We are restricted movement. No farming. No work doing. We are idle. No money. No enough food. No dresses to wear enough. The weather is becoming more unfavorable to the children. The children are catching cool always, getting sick almost every day.
"Government should fulfil its promises on our resettlement please my child. Let them come and carry us back home and reduce our sufferings and hardships in silent at the camp," Baba Kalla said.
A woman, Hajj Aisha Abur, an IDP from Kauri village of Konduga LGA of Borno state also at Dalori IDPs camp and mother of 4 children said, " I loss my husband and he is nowhere to be seen and nobody has heard of him yet since the deadly attack on our village, Kauri that displaced us and dispersed everybody in the village."
"Nobody is supporting or assisting me, especially, the children that are with me. I am a woman and can not cater for the children. My husband's relations are also poor and at the camp together with us too struggling to survive too. Talk more of assisting me and the children. They also have wives and children and it is government here that is also assisting them too.
" We don't have anything to depend in. All our things including the house were burnt down which forced us to escape and ran for our dare lives for safety to through other villages footpath with the children before reaching Dalori area here then we were screened and camped here.
"We are hapless. Except people like you come around, nobody knows that we are suffering here. There is no amount of food or support government will provide us with that will be compared to living in our homes to continue with our life.
"Yes. We are aware of the post insurgency livelihood programmes but that should come when we are better homed in the villages where we can at least find something doing instead of just living in camp and getting small small food and relief materials periodically not always.
"We have had enough sufferings and we need better shelter, food to eat, comfort and work or our faming occupation as rural people. We are farmers and prepare to go back to the village and farm rather than living here, " Hajj Aisha said.
The Executive Chairman of Borno SEMA , Hajiya Yabawa Kolo said the agency has been assiduously taking care of all the designated IDPs camps within and outside the state capital Maiduguri and managing all the camps in collaboration with other security agencies to ensure adequate security is provided at each of the IDPs camp.
She added that SEMA has unrelentingly been coordinating activities of all the humanitarian and development partners as well as other individual and organizational supports and assistance to the IDPs at every camp while NEMA has been meeting up with it's mandate of food provision and distribution at the camps and SEMA also ensures that the condiments are also provided and distributed accordingly to the IDPs as scheduled on weekly or fortnight basis according to the quantity of the food distributed or shared to each household based on the size of the households.
According to her, SEMA has also been assisting and supporting victims of emergencies across the state, especially those affected by boko haram insurgents attacks and fire disaster as well as flood disaster among others.
Yabawa said that SEMA with the untiring support of Governor Kashim Shettima has given all the designated IDPs camp high priority in the past seven years and will continue to properly manage and coordinate activities at the camps without any hindrance while the state government continue with its resettlement programme which is in phases as security situation in the liberated places improves.
Similarly, the Chief Information Officer of NEMA , North East Zone, Maiduguri, Abdulkadir Ibrahim has explained that NEMA ensure food distribution to IDPs at all the IDPs camps as arranged and has been going through it smoothly while all the officials involved in the distribution process have been doing their work effectively in collaboration with SEMA that manages the IDPs camps in collaboration with security agencies at the camps to ensure law and order.
He maintained that there was never a time food meant for distribution to IDPs at the camps was not distributed, noting that, food items were usually distributed to the IDPs in batches and based on schedule, family size and number of wives and children per households on either weekly basis or fortnightly and even in some cases monthly to ease the distribution exercise while SEMA distributes condiments.
It was however observed that the issue of complaints must arise in all the IDPs camps as all the IDPs households want enough or more food items and relief material to be distributed to them equally and always without giving consideration to family size or number of wives and children which can not be possible.
And from all indications, the Chairman, Borno State Transition/Resettlements Committee for IDPs , Alhaji Mohammed Abba Jato has severally made it clear to the newsmen that the committee has been working round the clock to ensure that it meets up with the federal government demand for total return of all the IDPs back to their localities as security improves, especially, in the northern part of Borno state.
While the Nigerian military has also appealed to the IDPs and state government to return to their homes liberated by the military describing the selective attacks by Boko haram insurgents as political and economic sabotage and complete betrayal from some quarters of the society who are aimed at frustrating the efforts and sacrifices of the Nigerian military.
Although, the Nigerian military has said that the Boko haram insurgents have been degraded and defeated as well rendered weak and now on clearance operations of remnants of the BHTS resulting in soft target attacks by the insurgents using IEDs on villages for food , drugs and money.
en
SOURCE :The Nigerian Voice (opinions)