Ifeanyi Ubah and Government Cremation of Igbo Interests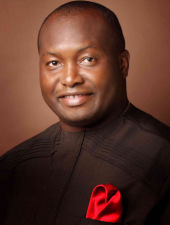 On Friday, May 5, 2017, the Department of State Services otherwise known as Nigeria's secret police because of the nature of their mandate, arrested and detained the Managing Director of Capital Oil and Gas Ltd, Dr Ifeanyi Ubah. It is instructive to note for the benefit of this piece that Dr Ubah has since remained in the DSS custody since then without being charged to court despite the claim of the DSS in its earlier press release declaring that it would prosecute Ubah "forthwith".
In that release, the DSS had lined up a plethora of allegations against the oil magnate as the reasons behind his travails. Such allegations hastily publicized almost immediately after Ubah was arrested is in tandem with the well-documented script of this current government to try all their victims in the public domain and excite a section of vulnerable Nigerians with it by embarking on media trials, drama and razzmatazz only for their cases to eventually fall flat on their faces where it matters most – at the courts!
It is no longer news that since the end of the 2015 general elections, the ruling party has not forgiven (as if there is anything at all to forgive) Ndigbo for their choice at the elections. The president had not hidden his sentiments about this when he made the infamous 97% vs 5% statement. Since then, strong and several attempts have been made to humiliate and subjugate the Igbo either as individuals or as a group just to emasculate them and reduce their humanity to calamity! Those who are most hit are the critics of government and or those considered to have supported the last administration at the last election especially if they are of Igbo extraction.
Several cases abound to prove that this is the case. Another one is the Ifeanyi Ubah issue.
How could the DSS be so much in a hurry to accuse Ifeanyi Ubah of all that they accuse him of when in actual fact the issues involved are transactional, contractual and a dispute between two parties to an agreement which also spelt out in very clear terms how to resolve any dispute that might arise from such an agreement? Surely, such resolution mechanisms catered for in the agreement does not include the use of state apparatus like the DSS or any other law enforcement agency to intimidate, harass or detain any of the parties in the case of a dispute.
It is reported that the agreement between Capital Oil and NNPC did in fact make room for the root of this dispute which states that should Capital Oil sell any of the NNPC products in its tank farm, it would pay an extra 1% of the value of the product sold. And to think that Ifeanyi Ubah was ready to go the extra mile of incurring additional losses to his operations just to help salvage a brewing petroleum crisis and its attendant numerous and severe negative effects on not only the country but also the ordinary Nigerian during the transition period speaks volume about his pristine qualities as a businessman.
This is in addition to the fact that Capital Oil and Gas claims NNPC is owing it N16bn.
First and foremost, is it not absurd that Nigerians are neither alarmed nor outraged that a government agency is reportedly owing a private enterprise as much as N16bn? How many businesses would survive with such amount owed it? Why is the NNPC so unashamed about its huge debt to Capital Oil? Why is nobody talking about this? Would any sane society tolerate this level of intolerable business lopsidedness? For how long is it morally right for NNPC to continue to owe Capital Oil without it taking necessary action to recover its money even if it means selling its debtor's property in its possession especially when the sale was done in national interest and at a loss to Capital Oil as they would be paying the 1% extra value on the volume it sold.
Does this not nullify the allegation of the DSS that Ubah's actions amounted to economic sabotage when indeed what was done was done in national interest especially now that the Petroleum Tankers Drivers (PTDs) have also come out to say that Ubah never incited them to embark on any strike or take any action to curry favour from them?
All these go to show that there is more to it all than meets the eye. If Ubah were of the northern ethnic stock, this case would obviously have been treated differently. While a private sector player like Ubah with staff strength of over 2000 and about 25,000 others indirectly engaged by his company is being harassed by the DSS, Babachir Lawal, a political patron of this administration is enjoying the rare privilege of a presidential investigation after allegedly diverting huge sums meant for IDPs in the north. He is never arrested, detained or prosecuted. One Nigeria indeed!
Ibrahim Magu, despite the overwhelming and damning report against him by this same DSS and his rejection by the Nigerian Senate, is still parading himself as Acting Chairman of EFCC. He, of course, is from the north!
Fulani herdsmen terrorists are also roaming the streets freely with pride in their continued killing of thousands of Nigerians across the nation, displacing families and destroying livelihoods in unquantifiable terms far more than what Ubah is purportedly owing NNPC, yet, they are neither harassed, arrested, detained nor prosecuted. This same government makes all sorts of excuses for them including compensating them after their killings, yet, it is Ifeanyi Ubah who creates livelihoods for people that is suffering over a trade dispute simply because he is Igbo, a tribe that must be conquered by all means!
The other time, they shut down Ibeto cement factory for no just cause only for them to reopen it without any criminal liability on the part of the company. Of course, the ravenous monopolist from the north has to be helped to have his competitors from the south east killed. Now, they are going after the likes of Emeka Offor, Innoson etc as if it is only Igbo people that are doing business in Nigeria.
While other businessmen from other parts of the country enjoy undue advantage over their Igbo counterparts by being given generous waivers, tax rebates, government patronage etc, the Igbo businessmen suffer factory shut down, harassment, intimidation, arrest, detention and persecution, demolition, wares seizures, multiple taxation etc. Of course, he must be run out of business by all means!
Even in the railway project for which the government intends borrowing a humongous $5.8bn from the China Exim Bank, an amount to be repaid by all regions of the country, only south east was deliberately left out among those to benefit from the loan, still in continuation of the ethnic agenda against the people.
Most unfortunately, this whole Capital Oil saga is leaving the otherwise esteemed DSS demystified, reduced to Boys' Brigade who beat their drum for every Shehu, Abdul and Musa that call them into a dispute even if it is between two cows. With the way the DSS are going, very soon, they will soon start being called by couples to arrest and detain their partners over marital disagreements. It would soon get to that since they now seem very comfortable acting as Debt Recovery Agency rather than as an Intelligence Agency.
Dr Ifeanyi Ubah should be released immediately and NNPC should come forward to reconcile accounts with Capital Oil and Gas. You cannot be indebted to a man to the tune of N16bn but keep harassing him over your N11bn. This is outside the N26bn which a Federal High court in Abuja, had ordered the Asset Management Corporation of Nigeria (AMCON) to pay Capital Oil and Gas as contained in a consent judgement delivered years ago but yet to be complied with.
From the foregoing, it is obvious that there is a deliberate attempt to cripple Ifeanyi Ubah, decimate his businesses and cremate the general interests of Ndigbo. This has got to stop or the nation continues on the irreversible regressive journey of self-implosion!
[email protected] ; Twitter: Stjudendukwe
en
SOURCE :The Nigerian Voice (opinions)