IHVN calls on Nigerians to practise full abstinence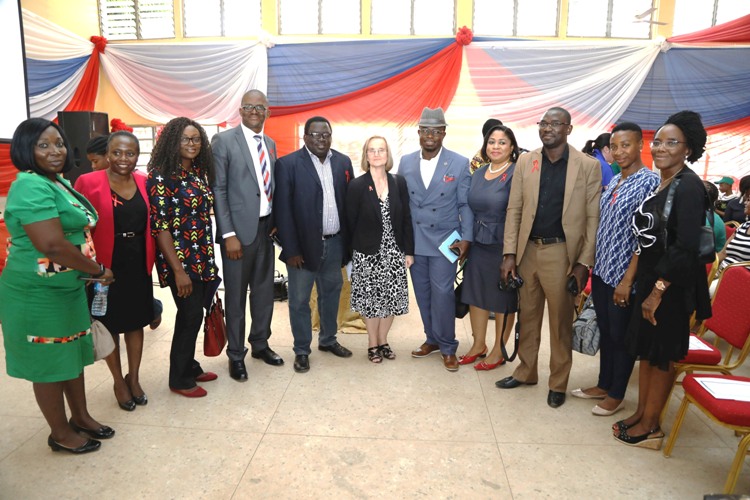 The Chief Executive Officer, Institute of Human Virology Nigeria (IHVN), Dr Patrick Dakum has called on the Nigerian youth to practise full abstinence to avoid getting infected with HIV virus.
On Friday in Abuja, Dakum who was represented by Mrs Asabe Gomvvalic, the Associate Director, IHVN, made the call at the commemoration of the 2017 World AIDS Day.
He said that the youth must be determined, resilient and empowered with knowledge on what HIV and preventions is all about so as to be focused and keep their dreams alive.
The CEO who noted the theme for the World AIDS Day as "Right to Health" said the slog was " Make it happen".
He also stressed that the youth were the leaders of tomorrow and must ensure an AIDS free nation while adding that IHVN would be available to mentor students to achieve an HIV free country.
"Nigeria has made tremendous effort in the fight against HIV, we were formally at 5.8 per cent but today it has reduced to 2.9 per cent, so we have achieved great deal.
"Although there is still much to be done, because it is the youth that are becoming more infected so we need strategies to help them stay negative and prevent themselves from becoming positive.
"We targeted the schools this year and we will work closely with the school authorities and the students," he said.
Dakum therefore urged Nigerians to spread the massage of HIV across their neighbourhood as every individual has a role to play in the fight against the spread and to stop stigmatisation.
At the event also was the United State Ambassador, Stuart Symington, said that more people were becoming infected with HIV virus every single year in Nigeria.
Symington noted that the treatment for HIV and AIDS is very expensive and it cost trillions to treat people living with the virus.
He said that one million Nigerians with HIV virus were currently on treatment, with treatment they will live well and their children will live well also.
In addition, the best approach to ending this disease is to prevent it and to take care of those who have it because they can live a wonderful life.
*The choice is yours to make, I don't care how well you are doing I don't care how tall or short you are, i don't care how rich or poor you are or how small or big you are, you can make a difference.
*The best approach is to prevent it and take care of those who have it, treat them as you treat yourselves but act wisely.
*You have already shown you know the most important thing of all, you can make a difference for yourself, your country and for the world, he said.
The Country Director, US. President's Emergency for AID'S Relief (PEPFAR), Shirley Dady said around the world today young people between the age 15 to 24 were the ones getting infected with HIV virus.
Dady stressed that PEPFAR will continue to support Nigeria to fight and curtail the spread of HIV and AIDS among the youth.
She added that every youth has a role to play in eradicating the virus and that is why the youths are the target this year.
Marcus Dorcas, a student from Government Secondary school, Wuse zone 3, expressed gladness and said she was privileged to be at the event and will abstain from sex.
Dorcas said that younger people suffer more if infected and would spread the massage to stop stigmatisation.
She therefore urged younger people to be careful and play save as HIV has no cure.
Aminu Fauziya, a 15 year old student of Government Secondary School Kubwa said that she had learnt so much from the event and will spread the massage among her peers.
Adding that Change beings with me and I will spread the News of abstinence among my peers I will teach them not to discriminate those with the virus "She said".
en
SOURCE :The Nigerian Voice (local news)