Imo 2019: *we Will Not Support Any Orlu Person For Governor 2019*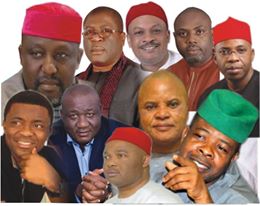 The Apex Socio – Political and Cultural body of Orlu zone "*ORLU ZURUMEE" have stated emphatically that it would not support any person of Orlu zone descent for the governorship of Imo state come 2019.
This position was taken during an interactive session with the leadership of both Owerri zone under the auspices of OGANIRU OWERRI and that of Okigwe zone led by OLU Okigwe.
Orlu zurumee in their reply to statements and plea by both Owerri and Okigwe pointed out that it will be insensitive and wicked for any Otlu son or daughter to quest to be governor after Orlu will be serving out eight years of holding sway in Imo State..
Earlier in their speeches, Dr Vitalia Ajumbe who as President of OGANIRU OWERRI , pointed out that Imo at this point should adopt the doctrine of necessity in choosing who becomes Governor in 2019. He pointed out that Owerri zone will partner with Okigwe zone to produce a candidate that is acceptable to the three zones. He called on Orlu zone to prevail on their people to allow justice and fair play to prevail.
In his own speech, Chief CC Anyanwu, the President Olu Okigwe aligned himself with the position of Owerri zones and urged Orlu zone to support Okigwe zone produce the next governor come 2019.
Orlu zurumee through speeches by Engr Chime Nzeribe and Prof Francis Dike assured all present at the interactive session especially the delegation from Owerri and Okigwe that they will never support an Orlu person for Governorship of Imo come 2019.
en
SOURCE :The Nigerian Voice (politics)