Imo Rescue Mission, from Family to Foes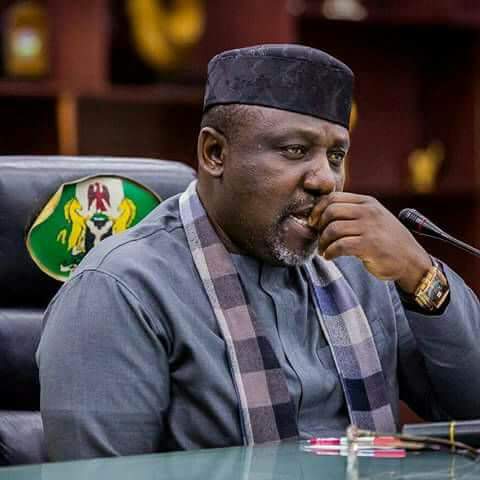 If you have never had a true friend, you don't know what it means to have a real enemy. If you have never had a close and trusted companion- A comrade, you don't know what it means to have a deserter and betrayer- A renegade). If you have never had a fond family, you don't know what it means to have a furious foe.
A family is a group of people having something in common, living together for unique aims, and functioning as a single household (and is thus synonymous with relatives, lineage, group, folks, cycle and series). A foe is one's enemy or opponent, (and thus synonymous with an adversary, an enemy, a rival and an antagonist).
But a family is founded on friendship. A friend is an emotionally close colleague or companion. He may be an acquaintance, an ally and advocate of cause, (and is thus synonymous with a comrade, an associate and a well-wisher). The biblical book of Proverbs 17:17 said that "a friend is a friend at all times, out of adversity a brother is made." To slip off from this intimate association, entails abandonment or rivalry, adversary and foe, and thus a renegade and enemy. A renegade is one that abandons his previous loyalties and compliance, and turns into a traitor or rebel (and is thus synonymous with a deserter, a defector and a betrayer). An enemy is a harmful and opposing fellow (and is synonymous with an adversary, a rival, an antagonist and a foe).
'From comrade to renegade', Prof Wole Soyinka's The Man Died said, 'there was no longer a question in mind that we had witnessed the mere prelude to a wider anarchic terror.' A comrade is a close friend or companion. The concept (and reality) of friendship has been reflected by many thinkers over the ages, and many came out like Soyinka with certain convictions on the awful nature of degeneration of amity. Like Soyinka, Robert Bolt noted that it is easy to transit from amity to enmity, and as such it is an uphill task trying to discern who is or will be a true friend or comrade from the unset of any interhuman relationship.
Not even the great theologian, St Augustine of Hippo, or such contemporary writers on friendship like George Orwell, was able to trace the link between enmity and amity. The possibility and reality of friendship degenerating to fiend-ship is always there, even at the beginning of human interactions. It is innate. This makes for such questions as: Who are my true friends? How do I know my enemies? This thing, this game or deal we are embarking upon, is it friendship? Will it last? Will we remain faithful to the end? How long would our friendship last? When does a friend cease to be a friend? These and many more, have no universal and stable responses.
The problematic with the modern conception of camaraderie is the association, equation and tagging of every interhuman relationship as friendship. Certainly there are various types of human association: Companionship, solidarity, company, fellowship, colleagues, associations, gang, group, couples, gossips, allied forces, etc. But these differ by their very originator instincts and intentions, aims and objectives, modes of operations, size and quality, nature and style of self-contracting, which make the realm of the interhuman a contractual foundation and an interest or target-bound human act. This sounds abstract but it is not. Would you bet?
Barely 2 years into the unholy alliance between Gov Okorocha and the Agbasos, had comrades turned to renegades? It may be true that Sir Jude Agbaso was plotted (as the whole processes of accusations, investigations and impeachment were hurriedly done like performance artists putting on live-stage their rehearsed assigned roles). Yes it may be true! It may be true that the truth uncovered about the then #458 Million scam as alleged and proven, is so. Yes it may be true! It may be true that the stories fabricated as Rochas' arriere-plan for Sir Jude's removal was to retain leverages and strong loyalties in the Douglas House after his attempted exit in 2015 for Vice Presidential bid (as well as guide positions for himself in case he fails as he had done before: A good perspective planning and characteristic of African system of leadership, Leadership for life and life presidency syndrome in the African, Nigerian, Igbo and Imo polity). Agburu leadership style, Agburu oshi! Yes, these may be true! Many assumptions may be true at this regard but they are of second order interest.
In their grand unseating plots, the Agbasos then played some games, but most types of games of that sort always backfire, as Araraume and Rochas are facing nemesis now. It could be remembered that it was rumoured then that Chief Martin Agbaso went to Abuja to obtain gubernatorial form as agreed with his party, APGA. Then he went with Chief Peter Orji (Big Do) who had earlier on gone to the PDP as a member of the Alliance facet to obtain same electoral form. As Alliance for Good Governance defected from the PDP to the ACN, Chief Peter defected with them too and later secretly stepped aside to APGA; reneging his masters- Chief Udenwa and Senator Araraume. It was rumoured then also that Chief Martin Agbaso collected money from his sponsor, Chief Athan Ogu for the gubernatorial bid in APGA for the 2011 polls and later secretly agreed with Chief Orji that he will step aside for him Orji without letting Chief Ogu know. What type of politics did the Agbasos play then if these rumours were true? Was it not pure treachery and renege on sponsorship pact? It was later alleged that under the Agbasos tutulege, Rochas bought the APGA guber ticket for N300m. Has Chief Martin Agbaso not received same coin-pay from his pact with Rochas? Today, how is the relationship between Rochas and Chief Ogu (and Peter Orji), or the Agbasos, severed or still 'palling'?
It was (Prof) Okechukwu Mezu that stated (in his Behind the Rising Sun) that "human intentions are several and unclear; so too are states of mind changing." The Agbasos smartly sold off the Imo APGA to the Alliance group that defected to the party and has not stayed as party members for even one week, just to get contracts, IGR, and some appointive positions ceded to them alone; for their Samuel's anointing function. Rochas being desperate and in search of where to put his head and come out for the Governorship race, promised them alone to be at the left and right hand of the master in his paradise. Onu e jiri bie aku! Did they then think of the other Imo APGA faithful and regular stalwarts? Their smartness and self-centred ambitions ever since then created facets in APGA (and transferred it to APC, therein having Rescue Mission as a different family and today, the Agburu Oshi as another facet of the self-rescuing missionaries) and that is still tearing the party apart today. Unholy alliance! Ogbu nma,…! The party house burnt by foes than family members, as each considers the other as out-group.
What happened to the Agbasos did not teach Senator Araraume lesson, when he sold out at the eve of 2015 gubernatorial election, defecting from PDP to APC, in another unholy alliance and Faust's Pact with the Devil. The worthy distinguished Senator was glad he has dealt with the PDP and Rt. Hon Emeka Ihedioha. Today Ndaa? How does Araraume fare with his bride, Rochas? What happened to the Agbasos has happened to him.
In same vein, what happened to the Agbasos did not also teach Sir Jude Ejiogu and Prince Eze Madumere life lessons. With Barr Chima Anozie (Home Base), they sacrificed their exalted prestige, dignity and comfort, acted as zealots, thugs and touts for Gov Okorocha during the 2015 gubernatorial election. They honourably held the mighty Owerri federal constituency intact, and prevented it from caving in like the Mbaise nation did; notwithstanding that Rochas early before then had wanted to change Madumere for an Mbaise man. The trio received demeaned treatments during the election, were detained, beaten by opposing forces and slept in the open in defence of Rochas success. Gov Okorocha cruised safe into the second tenure. Today Jude Ejiogu and Eze Madumere, Ndaa? Ejiogu was sacked after 2 years like Jude Agbaso, Eze Madumere was turned into ceremonial Deputy Governor, while the Chief of Staff (and his subordinates) turned into Deputy Governor. Owerri capital territory turned to Rochas' block industry. Owelle builds personalities and infrastructures and Rochas sacks and demolishes them. The duo is now cursed by Rochas. We await how he will treat Barr Chima Anozie, whether he will remember the past or still play his normal ingrate.
Owelle turned Imo APC and governance into family business, featuring only his Rescue Mission family members and his biological (extended) family. At last, he betrayed Senator Araraume and reneged on their pact. Virtually all big toes in his former alliance and Rescue Mission have turned into foes and renegades, forming allied forces to finish him up at Gaza street.
Rochas also entered into unholy alliance with Rt. Hon Ben Uwajumogu, manipulated protocols for him to become Speaker of the House. He bought Acho Ihim in order to make for APC majority and later compensated Ihim with same position as Uwajumogu. Senator Osita Izunaso was busy in Oru West fighting for Rochas in 2015, while Senator Hope Uzodimma (though PDP) folded his hands and watched Rt. Hon Emeka Ihedioha fail woefully in Oru East, all in favour of Rochas, and little did Imolites know that he had a pact with Okorocha. Today, how far, how is the relationship between Rochas and Uwajumogu or Uzodimma- From comrade to renegade, from family to foes!
Do to no one what you would not want anybody do to you! Judas plotted to sell Christ, succeeded and later suicide came. Such acts of Judas, Esau's porridge, Portiphar's wife promises, etc., are acts that are retributive. They end up making one a disgrace and disappointment to his generation, says Prophet Ejike Nwachukwu of the Rhema Deliverance Mission Nnewi.
Oh well, the paramount truth is that every "earth's proud empire" as J. Ellerton said, "Will pass away" but God's Kingdom (truth and justice) stands and grows forever. The truth is that "every tongue that shall rise in judgement against the just (Ohakim and Ihedioha, who are in this case, the me), as Prophet Isaiah declared, has been condemned. The truth is as Christ told Peter son of Jonas that who kills by the sword dies by it. The truth is as the Biblical Wisdom Literature puts it that 'whoever digs a pit shall fall into it.' The truth is that whatever goes up shall come down. The truth is that nothing is hidden under the sun. The truth is as the Golden Rule stated, "do to no one what you would not like another do to you! The truth is that you shall reap whatever you sow. What they did, was politics and its game, but never politics at the blindness of nemesis.
Yes, these are the truth! The truth is compounded of nemesis, of retributive justice, of karmic laws, of natural justice. The truth is that Sir Jude Agbaso, Senator Ifeanyi Araraume, Sir Jude Ejiogu, Prince Eze Madumere and Owelle Okorocha had in his two-tenures, unholy alliances against the wishes of Eternal Divinity and owner of every alliance, and now receive the scourges of a provoked deity. You reap whatever you sowed.
en
SOURCE :The Nigerian Voice (opinions)