In A Memo Huriwa Tasks Nass On Rule Of Law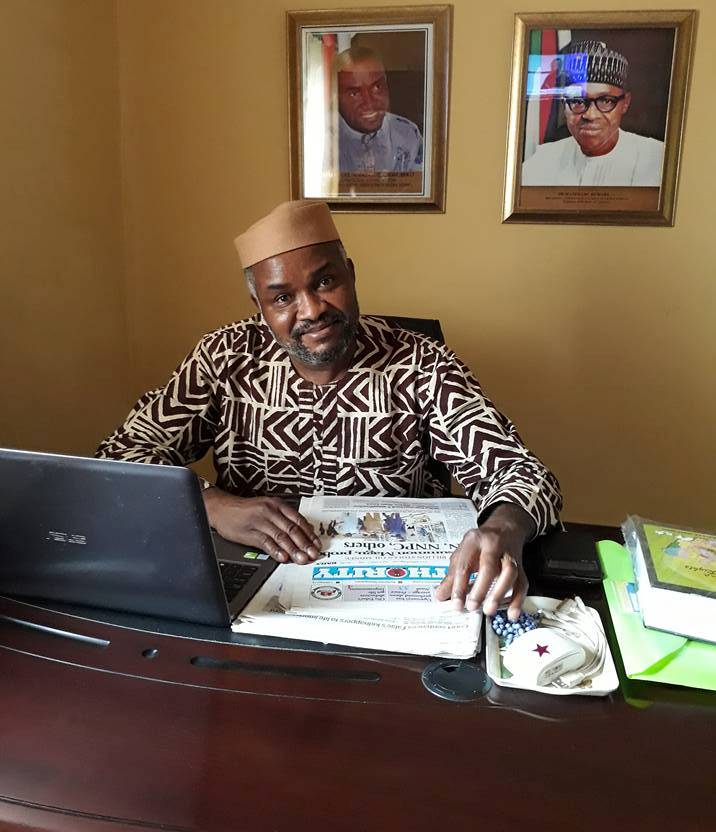 His Excellency the Deputy Senate President: Senator Ike Ekweremadu (CFR) (Phd);
We are here not just on a courtesy but a solidarity visit to directly inform you about our tenth year anniversary coming up on 20th April during which we intend to introduce our book "A DECADE OF HUMAN RIGHTS STRUGGLES".
We are by this notification informing your good self that we welcome your good offices to take up the inside front page of this phenomenal human rights book to pass your well-considered message of human rights to millions of Nigerians at home and abroad who will read our forthcoming book.
We are here to inform you also that 18 years old Kwara based student Chioma Okoli won our year 2017 Human rights Queen. She would have been here with us but she had to travel back to her school in Kwara state.
During her reign she is expected to carry out advocacy campaigns around the country around issues of protection of the rights of the Nigerian Children. She will take concrete media advocacy measures to sensitize the youth about human rights and the child rights law.
We invite your good offices to support her as she goes about discharging the mandate for which her office demands.
OBSERVATION ON STATE OF THE NATION:
We are here to express our shock and disappointment at the high rate of mass killings by armed Fulani herdsmen in such places as Southern Kaduna, Agatu in Benue State, Enugu, Abia, Delta and parts of middle belt of Nigeria. Armed youth identified as Islamists also murdered a 72 year old woman Mrs. Bridget Aghahime in Kano state and the middle-aged Christian woman pastor in Abuja Mrs. Elisha but till now no single suspect has been charged.
We are worried deeply that all the security forces have taken no concrete action to check the menace of mass genocide and to bring perpetrators to trial for the crimes against humanity. The National Assembly has done nothing to compel these relevant security forces to either protect Nigerians or their leaderships sacked and prosecuted.
We are shocked that till date no head of the security institutions have resigned for this abysmal failure and criminal dereliction of duty. We advocate the passage of a legislation to make the possession of guns for self defence legal and liberal.
We are here to protest the mass killings by police and the military of over 200 Igbo youth only because they assembled to demand for self-determination under the auspices of the Europe registered Indigenous People of Biafra (IPOB).
Only few months ago, over one dozen Igbo youth who were jubilating over the inauguration of President Donald Trump of the U.S.A were killed in an unprovoked and primitive attack by armed police in Port Harcourt, Rivers State. We demand action from political leaders in Nigeria. The Nigerian state including the National Assembly must as a matter of legal duty protect the human rights of all Nigerians and stop extralegal killings by both state and non-state actors.
Manfred Nowak rightly wrote: "Although in principle human rights can be violated by any person or group, and in fact human rights abuses committed against the backdrop of globalization by non-State actors (transnational corporations, organized crime, international terrorism, guerrilla and paramilitary forces and even intergovernmental organizations) are on the increase, under present international law, only States assume direct obligations in relation to human rights."
"By becoming parties to international human rights treaties, States incur three broad obligations: the duties to respect, to protect and to fulfill. While the balance between these obligations or duties may vary according to the rights involved, they apply in principle to all civil and political rights and all economic, social and cultural rights. Moreover, States have a duty to provide a remedy at the domestic level for human rights violations." We think the Nigerian government has failed to carry out these obligations.
What does the "obligation to respect" mean?
The State "obligation to respect" means that the State is obliged to refrain from interfering. It entails the prohibition of certain acts by Governments that may undermine the enjoyment of rights. For example, with regard to the right to education, it means that Governments must respect the liberty of parents to establish private schools and to ensure the religious and moral education of their children in accordance with their own convictions.
What does the "obligation to protect" mean?
The "obligation to protect" requires States to protect individuals against abuses by non-State actors. Once again, the right to education can serve as an example. The right of children to education must be protected by the State from interference and indoctrination by third parties, including parents and the family, teachers and the school, religions, sects, clans and business fi rms. States enjoy a broad margin of appreciation with respect to this obligation. For instance, the right to personal integrity and security obliges States to combat the widespread phenomenon of domestic violence against women and children: although not every single act of violence by a husband against his wife, or by parents against their children, constitutes a human rights violation for which the State may be held accountable, Governments have a responsibility to take positive measures — in the form of pertinent criminal, civil, family or administrative laws, police and judiciary training or general awareness raising — to reduce the incidence of domestic violence.
What does the obligation to fulfill" mean?
Under the "obligation to fulfill", States are required to take positive action to ensure that human rights can be exercised. In respect of the right to education, for instance, States must provide ways and means for free and compulsory primary education for all, free secondary education, higher education, vocational training, adult education, and the elimination of illiteracy (including such steps as setting up enough public schools or hiring and remunerating an adequate number of teachers). (Human Rights: A Handbook for Parliamentarians).
We are here to express our disappointment with the office of the Federal Attorney General and Minister of Justice for failing to prosecute vigorously all the boko haram terrorists and their sponsors who have since been detained by soldiers and the DSS. We demand that the National Assembly takes transparent action to compel the Federal Government to prosecute boko haram members who are responsible for over 30,000 deaths since four year ago till date.
We find it absolutely shocking that rather than prosecute terrorists the government is busy granting secret amnesty to these mass murderers.
Nigeria is a signatory to the ICC Treaty and so we have already sent petition to the ICC in The Hague, Netherlands to demand International action should the Nigerian government fail to prosecute these terrorists.
The National Assembly should also find out if the story going round that principal suspect in the bomb attack at the Madala, St. Theresa Catholic Church few years back Alhaji Kabiru Sokoto sentenced to life has been secretly freed. Nigerians are worried that terrorists are rapidly released and the Federal government has not adopted any measure to bring perpetrator and sponsors of terrorism to trial. We demand clearer strategies by government to rescue the over 200 Chibok girls still missing. We condemn incessant attacks by armed kidnappers of colleges and the forceful abduction of students. Government must do more. Let the NASS pass a law making it punishable with the death penalty for all cases of kidnapping.
We observe that millions of Nigerian who were deliberately disenfranchised by the last hierarchy of INEC in the 2015 general elections has yet to obtain their valid voters cards. We hope INEC will get it well this time around. Eligible voters from the SOUTH majorly were disenfranchised even when illegal aliens from Niger, Chad and Northern Cameroon paraded with PERMANENT VOTERS CARDS and indeed voted in 2015.
Lastly, we are not too happy that the rapport between the National Assembly and the organized Civil Society is almost next to nil except for the few privileged civil society leaders who are constantly in touch with the NASS leadership. Sir we urge your leadership to give access to all credible CSOS to freely access information from your good offices concerning mainly the national budgets and other legislations already passed. We support the creation of state police. We support the inclusion of a clause in the constitution for INDEPENDENT CANDIDACY AT ALL ELECTIONS. WE SUPPORT FULL AUTONOMY FOR LOCAL GOVERNMENT COUNCILS. WE SUPPORT FINANCIAL AUTONOMY FOR STATE HOUSES OF ASSEMBLY.
Our objectives are;
v To deploy the members' creative talents as writers to promote, protect and project the human rights of all Nigerians and other law abiding citizens resident within Nigeria;
v To organize periodic seminars and training workshops locally for human capital development specifically on the tenets and ideals of Human Rights and the rule of Law;
v To attend International Workshops and Seminars targeted at the promotion and protection of human rights;
v To conduct periodic studies on ways, means and strategies for promoting and protecting human rights of law abiding citizens;
v To highlight human rights challenges confronting the persons in conflict with the law and seek for constructive modalities for redressing such violations; and
v To recognize excellence and good governance standards in the polity through yearly award ceremonies for exceptionally good, tested and trusted leaders in both the corporate and public sectors. The process of selection would be by transparent mass participation strategies.
Be assured of our highest esteem and consideration.
SOURCE: The Nigerian Voice (opinions)