In the company of reprobates – Open letter to Dino Melaiye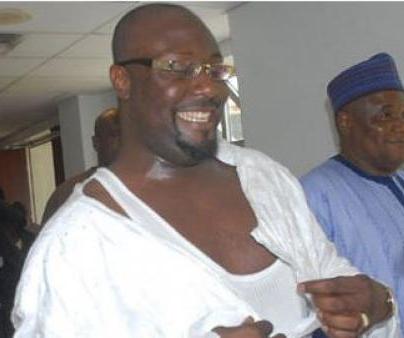 Dear Dino Melaiye,
With the whole land now in the frenzy of religious indoctrination induced by the on-going fasting season, I am sure that the sing-song on the mouth of many Muslims will now be – "awe ngbo mi" – I am weakened by fasting. However, since you are a committed Christian, I know that your energy will be high and running, as usual. What with the "success" of your book titled "Antidote to Corruption", the apparent panacea to our long running battle with this gigantic monster in Nigeria.
Unsurprisingly, Nigerians have reacted adversely to your attempt to redefine corruption and proffer solutions. The apparent venom poured on your feeble effort should not come as a surprise. After all, this is Nigeria and you very well understand Nigerians. I bet that in the typical Dino fashion, you must be enjoying the limelight. Limelight was the primary reason why you decided to compile newspaper cuttings and abstracts together and called same a book. You are such a very busy senator, one who enjoys the privileges and power same position confers, that creating time for a mundane activity like writing a serious book is frankly beyond you. However, as you once declared in the chambers of the senate, you will never throw away an opportunity to enjoy free publicity. Obviously, the launch of your rather pathetic book provided such.
First, let us review the charade called book launch. You did not prove anyone wrong in your choice of dignitaries. My only grouse is that you left some important dignitaries out of the circus show. Where was that guy that kept millions in metal boxes? I am talking of the former GMD of NNPC, Andrew Yakubu. Such an important dignitary should not be left out of such a very important national event. What about the Airforce general who dug a soakaway where he kept his loot? I refer to ex-Air Marshall Adesola Amosu. He was missing on your guest list. There are many other important Nigerians who had faced the current Nigerian antidote of corruption, those who have been unjustly maligned as per your view. They should all have been invited to the show. Note that I used the words antidote of corruption and not antidote for corruption but we shall come to that later. Perhaps, you needed to have contacted Lai Mohamed for a list of those who buried their loot in graveyards to invite to the august occasion.
You did well in inviting Bukola Saraki. The prodigal son who is indeed the scion of Nigeria's ultimate house of corruption. The "Omo Baba oloye" himself! Being a scion of such a noble family, Bukola is well placed to redefine corruption and offer invaluable suggestions towards combating it. Who knows, his cerebral suggestion may help to resolve the logjam at the Code of Conduct Bureau where an apparently straight forward case is taking eons. A Yoruba adage says that only a thief knows the footpath of another on a rock.
Pardon me, I digress. You also invited Mama Peace. Patience Jonathan, oh that poor woman of insatiable greed. Nigeria's de facto President during the fumbling days of Goodluck Jonathan. She is currently facing the brutal Nigerian antidote of corruption, one out of sync with your proffered antidotes. Indeed, she needed to be there. What about Asari Dokubo? What about the other Ijaw general who is still on the run? Of course, Government Ekpemupolo (Tompolo)! You forgot to invite James Ibori. The Ogidigboigbo of Delta State! Come on, why did you leave such eminent personalities from your guest list? It was a pity that The Governor-General of Ijaw land was no longer alive. Diepreye Alamiesieyesiegha was pursued by corruption to his last day. He died running from the consequences of corruption. What an ample opportunity you missed to have learnt from this great grandmaster of corruption. He would have proffered antidotes! You omitted compromised justices of Nigerian courts and senior advocates of the Nigerian Bar. You also left behind reprehensible Nigerian businessmen. Those who have been to the pinnacle of corruption in the fertile ground called Nigeria.
No doubt, your enthusiasm for fighting corruption started in those days of activism. Of course, I refer to the scam you called Anti-Corruption Network. A beautiful scam aimed at enhancing your political fortunes. You obviously succeeded, hence your odious presence at the National Assembly, starting with the lower house. Your heady days in that lower chamber when fighting and aggression were the norm remain fresh in our memory. That was the true defining moment of the Dino Melaiye phenomenon!
Professor Wole Soyinka described your august gathering as one mainly populated by disgusting reprobates. I would implore you to forget this. You very well know that the professor likes to 'yarn'. You were extremely intelligent in your selection of guests; the pity was that the list was incomplete. Rather than being castigated, you deserve nothing but commendation for having the effrontery to publicly organise an anti-people gathering called book launch. You are so courageous such that amid our efforts to clean our very sick society of the monster called corruption, you could confidently gather idiots together to tell us how not to fight the monster. This was the not the first time you will cut off our nose to spite our face. Gallant Dino!
Seriously Dino, how much did you make at the book launch? It is trite to repeat that what you launched was nothing but empty pieces of paper, one not worthy of comment. We all know that you were after three things – money to be realised at the launch to fund your extravagant lifestyle, recklessly providing avenue for those blighted by corruption to have a say and finally, an opportunity to further sell the Dino brand. Of course, you do not care about the brand being tainted or a source of nausea and disdain in rational minds. That is not your piece of bread. As long as Bukola is by your side, whom do you fear? Again, your recently acquired fame following the waxing of your unreleased album titled "AjekunIyani o je" is dimming. You desperately needed to reinvigorate the fame (or is it notoriety?). Waxing another album may not be the best option, hence the resort to launching useless pieces of paper. I wonder what next you have up your sleeve? No doubt, with Mama Peace and Uncle Bukky in attendance, you must have raked in millions. Will you be purchasing another classic car or buy another unique bed? What surprises do you have in stock from the millions raised from your fellow reprobates?
Let us revisit the title of your book. You named it"Antidote for Corruption". Sahara Reporters disagreed, categorically stating that your precious book was filled with grammatical errors, starting from the title. Question is, what is expected of a scrap book? When a kid gathers stuff together to create a scrap book, no teacher ever takes this serious. The fact that you drew people of like mind to a shenanigan of a book launch does not confer any seriousness to your effort. In any case, why would Sahara Reporters expect a higher level of linguistic prowess on your part? Your melodramatic educational qualifications are open secret. It is now trite that you never attended Harvard as you largely proclaimed. Neither did you attend any higher institution in London. Even the Ali Baba University (ABU) qualification you claimed to have is riddled with doubts and controversies. With this uncommon background (apologies to Godfrey Akpabio who was also conspicuously missing amongst the reprobates), not much should have been expected in the realm of linguistic prowess.
Dear Dino, being a reprobate is not a crime. Not especially in a country like Nigeria where negativity is extolled. It is just that in civilised societies, a reprobate is open to derision and vilification. As homo sapiens, we all seek fame differently. Dr Ishola Oyenusi sought his by excelling in armed robbery while Mark David Chapman got his by killing John Lennon. James Earl Ray assassinated Martin Luther King while John Hinckley Jnr achieved his by his attempt on the life of Ronald Reagan. You have sought yours by throwing decency overboard and by your unbridled desire for wealth, luxury and power. As Nigeria strides steadily towards anarchy, you remained steadfast in your unshaken desire to be a footnote of our dark history. You really do not have any cause to worry. Jon Ronson in his famous and well researched book, The Psychopath Test, concluded that psychopaths constitute a mere 1% of the world population but causes 40% of its problems. He also concluded that psychopaths also constitute the greatest percentage of the political class. Thus, Dino Melaiye, you are in the right company and should continue to dance to your macabre beats. The day of reckoning is just around the corner.
Dr Olusegun Fakoya
London, UK
en
SOURCE :The Nigerian Voice (opinions)