IPOB not a terrorist organisation: Prof. Pat Utomi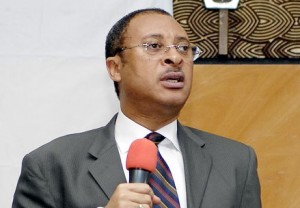 A RENOWNED political economist and one-time presidential aspirant, Prof. Pat Utomi, has rejected the recent classification of Indigenous People of Biafra, IPOB, by Nigerian government as a terrorist organisation, saying the Nnamdi Kanu group might be a nuisance, but they are not a terrorist organisation.
Utomi, who was reacting to the Federal Government's categorisation at a function at Holy Cross Cathedral in Lagos, argued that people have the right to express themselves, stressing: "People have the right to say they've been unjustly treated.
To take away that right from them is to say you want to enslave them. When you talk about modern slavery, it's the most grievous violation of human rights in the 21st century. Prof. Pat Utomi "I've not seen what terror they (IPOB) have committed.
They are not, I repeat, quote me anywhere, any day, they are not a terrorist organisation. "That's just a political thing. It doesn't make sense which way you look at it. It's just a political thing. You can carve any name, you can be IPOB or ITOT, it's just a name." "Nigeria is going through a necessary and interesting phase of its evolution as a country. I am not one of those unduly worried about the things going on in the country. They are part of the thesis and anti-thesis that will produce synthesis that is a nation."
Asked to advise the nation's leaders, Utomi said: "That we all seek God's blessings for all, no one is a child of a lesser God. And as those who wrote that piece of play has said, our arms are too short to box with God. I wish peace to all, progress to all, growth of abundance mentality, human charity that leads to accommodation."
Vanguard
en
SOURCE :The Nigerian Voice (local news)