JAMB registrar delivers UNIOSUN 10th foundation Day lecture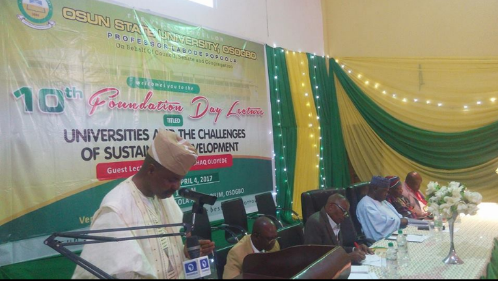 The Registrar and Chief Executive of Joint Admissions and Matriculations Board (JAMB), Professor Is-haq Oloyede yesterday delivered the 10th Foundation Day Lecture of Osun State University in Osogbo, capital of Osun State.
Delivering the lecture titled: "Universities and the Challenges of Sustainable Development," Professor Oloyede posited that until authorities, management and workers in the nation's universities imbibe positive mental attitude in playing their roles, it would be hard to ensure sustainable development.
The 10th Foundation Day Lecture of the Osun State University, Osogbo which was held at the Olagunsoye Oyinlola Auditorium attracted top personalities from different parts of the country as the event was part of the activities marking the 6thi convocation of the University.
Oloyede posited that the attitudes of members of the university communities would determine their altitude and tasked universities to generate research that would ensure environmental sustainability.
The JAMB Registrar who was represented by a lecturer from the University of Ibadan, Professor Afiz Oladosu said "the environment is fundamental as everything ultimately depends on the environment to survive."
Oloyede said, "Universities have crucial roles to play in addressing the challenges of sustainable development. The only requirement needed in this regard is attitude which determines our altitude.
"With positive mental attitude, I recommend that rather than relying on concrete or fence (only) to mark the perimeter of the university campus, universities should be planting streets for economic and ecological purposes. The trees will serve as carbon sink, taking out and storing carbon.
"Apart from forestation for the purpose of boundary demarcation, universities should cultivate the plantation culture through a deliberate policy of growing economic trees like teak, date palm and so on. Nigeria universities should formulate robust environmental policies and implement the provisions therein to the letter.
"Universities should develop their own capacity for generating power rather than relying on the epileptic public power supply system or unsustainable power generators. Alternative energy should be generated from solar, thermal and biofuel sources in order to accelerate development."
Oloyede charged universities to embark on sustainable waste management, including e-waste administration, through research and entrepreneurial ventures adding that ivory towers should domesticate the principles of Education for Sustainable Development (ESD) as espoused by UNESCO.
The JAMB boss further advised universities to impact more on their immediate communities through town and gown programmes that would sensitise Nigerians on the impacts of climate change and the need to embrace sustainable development philosophy.
SOURCE: The Nigerian Voice (local news)