Jubilation in Kano as Kwankwaso defects to PDP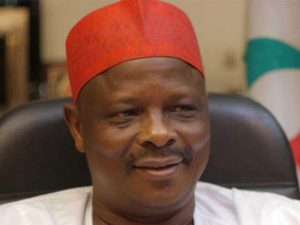 The city of Kano erupted in jubilation Tuesday when the news broke that the former governor of the state, Rabiu Musa Kwankwaso, has defected from the ruling All Progressives Congress (APC) to the opposition Peoples Democratic Party (PDP).
Kwankwaso, a serving senator representing Kano Central, along with 14 other senators announced their defection in a letter read on the floor of the Senate by the Senate President Bukola Saraki.
However, the announcement sparked wild jubilation in some places in the commercial city, as thousands of Kwankwaso's supporters defied the heavy downpour to celebrate what they described as a "welcome development".
A Kwankwaso supporter, who identified himself as Ibrahim Maigari, said: "I have been waiting for this day. Today I am the happiest person because we have been liberated from political persecution.
"This is true democracy, democracy is to allow anybody exercise his right."
A popular woman politician in Kano, Mrs Hauwa Muhammad, known for her loyalty to Mallam Ibrahim Shekarau's PDP camp, said she is happy with the defection of Kwankwaso to PDP.
According to her, the ruling APC has failed to fulfill its campaign promises, adding that: "The APC-led government had made the life of a common Nigerian a miserable one."
Speaking further, Mrs Mohammed said: "Look at how people are killed in Zamfara, Taraba and Plateau States. Kidnapping is on the rise. All problems are not addressed. With the defection of giant politicians like Kwankwaso, I'm optimistic that PDP would return to power in 2019 to revamp this ailing economy and better the life of Nigerians."
In his reaction, the state Commissioner for Rural Development, Alhaji Musa Ilyasu Kwankwaso, said: "Kwankwaso's defection to PDP will give the APC chance to win the 2019 elections in the state."
According to Senator Kwankwaso's nephew, "Many people will leave the PDP because of the Kwankwaso's defection. He wants to control everybody and I believe that within the next one month, so many peoples will quit the party for APC.
"Kwankwaso's defection to PDP is a blessing to APC in Kano including President Buhari. APC will clearly win the 2019 because the state has thrown out bad eggs from its fold."
en
SOURCE :The Nigerian Voice (politics)