Kanu Denies Rejecting Bail Conditions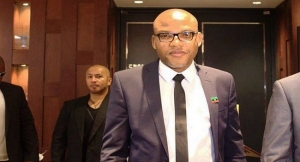 Lawyer to Nnamdi Kanu, Ifeanyi Ejiofor, has distanced the IPOB leader from his parent's position, insisting that they would meet the bail conditions within 48 hours.
The family of the self-acclaimed leader of the Indigenous People of Biafra (IPOB) is not impressed with the bail conditions given to their son, although they are happy with his release.
Read More: Nnamdi Kani Granted Bail
Mr Kanu was on Tuesday granted bail on health grounds by the Federal High Court, Abuja.
He is to present three sureties, one of whom must be a serving senator, a Jewish religious leader and a highly respected person who must own a landed property in the Federal Capital Territory.
The bail sum is 100 million naira per surety.
Justice Binta Nyako warned Mr Kanu against granting press interviews, holding rallies or being in a gathering of more than 10 persons while on bail.
She warned him that the bail would be revoked if he flouts any of the conditions.
The justice, however, denied bail to other persons arraigned with Kanu, stressing that the treason charges against them is a serious offence.
She also refused to vary her ruling on protection of witnesses because witnesses are security operatives.
Source: Channels Tv