Keke NAPEP Riders Protest Illegal Collection Levies by Police And LGC Officials in Maiduguri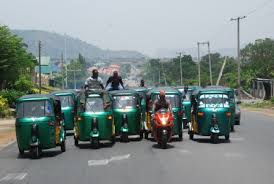 By Ahmed Abu, The Nigerian Voice, Maiduguri
Hundreds of commercial riders popularly known as keke NAPEP in Maiduguri metropolis Monday have embarked on a protest, barricading major roads and high ways within the state capital obstructing vehicular and pedestrian movements for over four hours.
It was gathered that the commercial riders were protesting alleged illegal collection of levies ranging from N1000 and N1500 from the members of the Keke NAPEP Riders Association in connivance with the leaders of their association.
Few riders that spoke to newsmen on the matter said they were in the protest to register their position as dissatisfaction and extortion of money by the police and keke NAPEP officials because the ways and manners their leadership conspired against them with the police men to be collecting money from them at the detriment of their operations was becoming unbearable at this hard time.
Some even alleged that the conspiracy had reached the level where policemen do arrest them and extort money from them while the leaders of the association remained helpless and display "I don't care" attitude.
A situation that caused public disorder as police men used tear gas to disperse the protesters along the police headquarters despite the hold up and traffic jam on the streets.
A Keke NAPEP rider, . Abubakar Ali said " policemen have been disturbing us, whenever we encounter them, they take us to the police station and extort amounts ranging from N1,000.00 – N1,500.00 without any offence.
" we are not making any trouble but all we want is for the government to intervene, even if you have all your particulars, they will still take money from you. We are therefore calling on the commissioner of Police and Borno state government to do something," he added.
Another NAPEP Rider, Idrid Ibrahim, said that they hardly make N3,500 in a day. We earnmark N500 for fuel, while N2,500 is for balance but when police collect N1,500 from you , someone wouldn't even have money to pay the NAPEP owner his balance.
He said " we are calling the state commissioner of police to interven because NAPEP is our only means of livelihood.
But in a statement issued by the Borno State Police Command PPRO, DSP Edet Okon said the State Commissioner of Police , CP Damian Chukwu has appealed to keke NAPEP commercial riders on protest over the alleged illegal collection of Levies from them by LGC officials Monday in Maiduguri who took over major streets and roads within the state capital causing high road traffic and raising tension before security and government official brought the situation under control as measures were being taken to address the issue.
The police statement read in quote: "Today being 30/07/18, Tricycle Riders within Maiduguri Metropolis embarked on protest alleging illegal collection of levies by Local Government Authorities and non provision of Motor Parks for their operations.
"They were promptly addressed by the Deputy Commissioner of Police in charge of Operations, DCP Maiyaki Baba and the State Attorney General/Commissioner of Justice. The situation has been brought under control and no life was lost.
" The Commissioner of Police Borno State, CP Damian Chukwu hereby urges members of the public to be law abiding and always endeavor to report their grievances to the police or other appropriate government agencies.
"He also urges members of the public to go about their lawful activities without fear as the police will continue to work to ensure their safety."
en
SOURCE :The Nigerian Voice (local news)