Kirikiri Medium Prison, Agripreneur Partner To Empower Inmates Through Agribusiness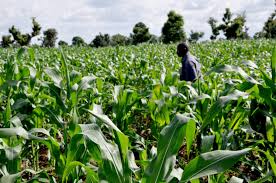 By Olawale Rotimi Opeyemi
As part of his initiative to end hunger in Nigeria and Africa, ensure food security, create wealth and employment opportunities, Olawale Rotimi Opeyemi has commenced partnership discussions with the authority of Kirikiri Medium Prison, Lagos to empower inmates and enhance the earning scheme of the Nigeria Prison.
In an economy which is largely driven by oil revenue, diversification of national economy has become an obligation. And since the Nigeria Prison has "reformation" of inmates as one of her thematic goals, the proposed partnership is designed to create a revolving vegetable, rice, potato and livestock farming scheme within the prison to train interested inmates in agribusiness.
At the inaugural meeting held at the Kirikiri Medium Prison, Deputy Controller of Prisons, Officer in Charge of Kirikiri Male Medium Prison, Mr. Emmanuel Oluwaniyi welcome the development which he said will enhance the earning scheme of the Nigeria Prison.
The agripreneur and co-founder of Cedar Farmers Cooperative, Olawale Rotimi Opeyemi expressed readiness to work with the Kirikiri Male Medium prison to engage inmates in agribusiness. Olawale noted that impacting the lives of inmates is at the center of this partnership.
The partnership which is set to take off by February/March 2018 will be preceded by signing of MoU which will outline the roles of the partners, implementation stages, time frame and other relevant details.
—
Olawale Rotimi B.A, M.A Ilorin, DELF Paris. T: @RotimiLawale "You don't struggle to grow, grow the grass and the sheep will come, nurture it and they will never. Increase in quality not in quantity"
en
SOURCE :The Nigerian Voice (local news)