Leave Fayose out of Buhari's messy fight with Obasanjo, Aide tells Garba Shehu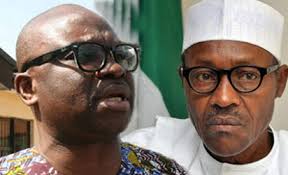 By Lere Olayinka – AresaTV
Special Assistant to Ekiti State Governor on Public Communications and New Media, Lere Olayinka has told the Senior Special Assistant to the President on Media and Publicity, Garba Shehu not to drag Governor Ayodele Fayose into President Muhammadu Buhari's messy fight with former President Olusegun Obasanjo, saying; "These people should rather fight their battle alone because when they were going to Obasanjo's house to prostrate for him to get his support, they never remember that he was a despot and that he spent $16 billion on power."
Olayinka challenged President Buhari to go ahead and arrest Obasanjo, saying; "Obasanjo has challenged them to probe him, what are they waiting for?
"As far as we are concerned, Obasanjo and Buhari are allies in the comity of dictators and treasury looters. It was under Obasanjo that Buhari served as Minister of Petroleum and NNPC Chairman in 1977 and N2.8 billion oil money went missing from the accounts of the NNPC in Midlands Bank, United Kingdom. N2.8 billion as at that time is like
$2.8 billion (over N1 trillion) now!"
Fayose's Spokesperson, who described President Buhari and his men as political hypocrites, said; "It is the height of hypocrisy for Garba Shehu to have said that none of the absurdities recorded under Obasanjo had happened under President Buhari.
"Garba Shehu should tell Nigerians what this government has done differently. Today, Nigeria under President Buhari is now a country where Nigerians are arrested and detained without trial and orders of court to release them are brazenly disobeyed.
"Judges have been arrested in gestapo manner in the night and dragged into open vans like common criminals, government house and State House of Assembly invaded by armed men of the DSS.
"Most importantly, it is under Buhari's government that the Legislative Arm of government, which is the symbol of democracy, was rendered impotent such that $1 billion was taken from the Excess Crude Account without approval of the National Assembly and statutory appointments were made without recourse to the National Assembly."
en
SOURCE :The Nigerian Voice (local news)