Legislative Power Not Used For Peace, Good Governance – Jiti Ogunye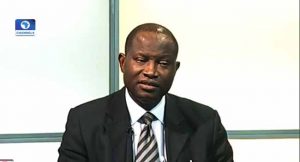 A legal practitioner, Jiti Ogunye, has said that legislative power in Nigeria, largely at the centre, is not being used for the order, peace and good government of Nigeria even though that is a constitutional requirement.
"The basic reason why you have the legislature is to promote peace order and good governance."
He made the statement while giving his views on the recent happenings in the Senate such as the suspension of Senator Ali Ndume, and the summoning of Professor Itse Sagay.
Mr Sagay in reaction to the directive, had declared that the Senate had neither the power nor authority to summon him to appear before it; a comment which Mr Jiti strongly agreed to.
[embedded content]
"They know they don't have the authority. When you are using the legislative process, it is an abuse of power for self-aggrandizement to witch-hunt your opponent and you are trying to kill the right to freedom of speech," he stated.
Also speaking on the level of sanction meted out on Senator Ndume, for the alleged offence of bringing the Senate to disrepute, he said: "There was no offence, It was a scam".
He described as "sad", the situation in which the legislative arm appears to be used largely to blackmail the system; "as if the legislature has a veto power over the executive".
According to him, it is a disservice to many of the Nigerians who had fought so hard and lost their lives back in the military era.
He expressed his disappointment and frustration over the goings-on in the Senate and the nation as a whole, adding that the it would give democracy a bad name.
The lawyer posited that many would as a result of the frustration, begin to go to the extremes of suggesting a return to military rule.
Source: Channels Tv