Lessons For Nigeria From Tanzanian President John Maguful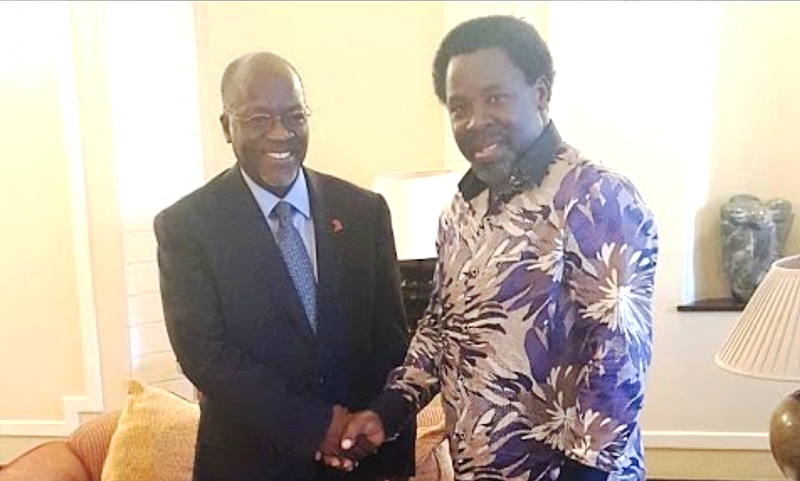 As Nigeria's political chaos continues to heighten, what lessons can the African giant learn from one of its nearby neighbors in East Africa?
Since his assumption to power in November 2015, Tanzanian President John Magufuli has implemented a no-nonsense crackdown on government corruption, yielding remarkable results. Tanzania's economy is among the world's fastest growing and 'The Bulldozer' has been able to effectively implement the promises he made in his election. As an Oxford University PhD student Dan Paget wrote, "President John Magufuli hasn't just "pushed through" change, he's achieved things that were considered all but impossible two years ago."
Intriguingly, Magufuli has a clear connection to Nigeria in the shape of Pastor T.B. Joshua, whom the President has openly declared is his 'mentor' and 'close friend'. Joshua was present for Magufuli's inauguration, playing the vital role of a peacemaker with irked opposition leader Edward Lowassa. The president's young son testified that he was healed from a severe respiratory problem through Joshua's prayers and his wife openly engages in humanitarian activities which she cites the pastor as her inspiration for. During Joshua's 55thbirthday in June 2018, Magufuli even posted a congratulatory tweet and prayer for the cleric.
With Nigeria's political quagmire steadily unfolding with several prominent APC politicians defecting to the opposition party PDP and public mistrust in politics at an all-time high, will Nigerian leaders learn from their East African compatriot? Principled devotion to good governance, a moral compass to fight against the scourge of corruption and reliance on the Almighty God are just some of the secrets behind Magufuli's meteoric rise. Perhaps Nigerian leaders would do well to seek God's opinion at this time from the likes of T.B. Joshua also. His counsel is clearly bearing fruit in Tanzania.
Godwin Ikechukwu is writing from Lagos, Nigeria
VIDEO:[embedded content]
en
SOURCE :The Nigerian Voice (local news)