Local councils in Osun review status of developmental projects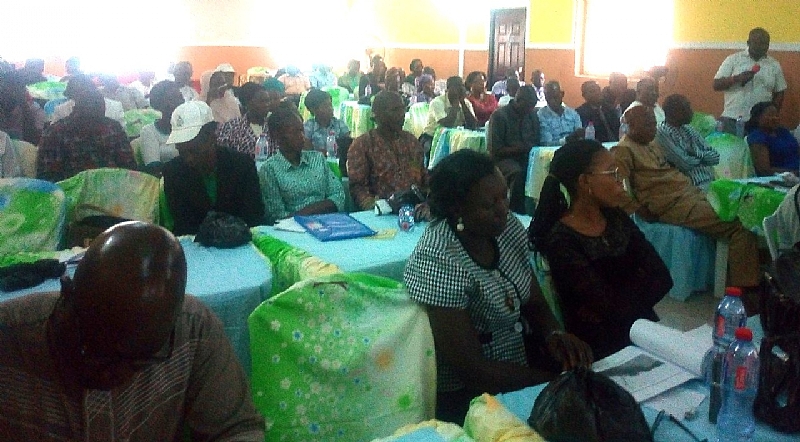 By Olawale Oyegbade, The Nigerian Voice, Osogbo
Local Council Managers and Desk Officers in Osun State today reviewed their activities for the first quarter of this year.
The review was facilitated by the Osun State Community and Social Development Project (Osun-CSDP) as part of efforts to ensure proper maintenance and sustainability of various developmental projects in the local communities across the state to serve the people effectively.
The CMs and DOs from the 30 Local Government Areas and 38 Local Council Development Areas, Administrative Offices and Area Councils highlighted their activities towards the maintenance and functionality of CSDP assisted projects.
The CMs and DOs presented the status reports of the projects in their respective council areas and reported how they adopted Community Driven Development (CDD) Approach in the process.
In their presentations, the CMs and DOs also gave status reports of the projects in their councils and also revealed the challenges militating against the effectiveness of the projects.
The projects reviewed at the meeting include, boreholes, transformers for electrification, health centers, road, civic centers, community libraries and vulnerable groups targeted interventions among others.
The General Manager of Osun CSDP, Mrs Funmi Abokede while speaking on the occasion said the review meeting was was aimed at promoting accountable governance and better public service delivery.
Abokede said "this quarterly meeting was meant to review the performance in respect of CSDP assisted micro projects and to evaluate the use of Community Driven Development approach for the public service delivery."
Abokede added that the performance review was an innovative strategy to monitor how public resources deployed to deliver services to the citizens are achieving the objectives. She said the review was a social accountability platform anchored on constructive engagement.
The Finance and Administration Manager of Osun CSDP, Mr Akin Ogunsakin charged the Council Managers and the Desk Officers to strengthen the Community Driven Development initiative by carrying the community people along adequately and ensure that the citizens take ownership of the projects.
en
SOURCE :The Nigerian Voice (local news)