Magu will remain EFCC ag. chairman despite Senate rejection: Osinbajo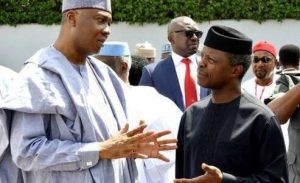 Acting President Yemi Osinbajo is insisting that  Ibrahim Magu would remain as Chairman of Economic and Financial Crimes Commission (EFCC)  despite being rejected by the National Assembly.
The Acting  President, who spoke through Kaduna State governor, Malam Nasir El-rufai,  at the commissioning ceremony of the EFCC zonal office in Kaduna on Thursday, said said, as long as he remains the Acting President, Magu cannot be removed by anybody.
He spoke just as the acting  EFCC boss called for establishment of a special prison for corrupt Nigerians in the famous Boko Haram den, Sambisa forest.
According to Osinbajo, he had spoken  with President Muhammadu Buhari over the issue of Magu, and the President said as long as he remains President, Magu will not vacate the anti-corruption seat.
Osinbajo said, "We have every confidence in Magu to fight corruption to a standstill. He will remain the EFCC chairman as long as I remain the Acting President and as well as Muhammadu Buhari remains the President.
"It is our belief that Magu will continue to remain a nightmare for corrupt people for years to come".
Delivering his  own welcome address, Governor El-Rufai disclosed that he had recovered over N500 million quietly from corrupt past government officials and contractors without anybody knowing.
He however added that those corrupt officials will be handed over to the EFCC in due course for prosecution.
He said he encouraged the establishment of EFCC zonal office in Kaduna because the State has zero tolerance for financial bad behaviour.
Also, El-Rufai promised the Commission a land for its training school as well as staff accommodation.
"The Commission can continue to count on us for our support for EFCC. We have set aside a land in Kaduna for your training school" the governor  said.
Earlier the EFCC Chairman, called for a corruption prison to located in Sambisa Forest, noting that, for the prison to become a reality, the judiciary arm of government should  cooperate with the Commission.
He  said  that illegal monies are likely to be abandoned by corrupt persons at the nation's airport and places in near future as it happened at Kaduna airport some few months ago.
He warned that if concerted efforts were not made to rid the country of corruption, the monster will kill the citizens.
"We want to call for establishment of prison in Sambisa forest in order to keep away corrupt people from our midst.
"In this case, the judiciary has direct influence to help in the fight against corruption.
"But concerted efforts are being made by some big Nigerians to neutralise the fight against corruption.
"We must change the narrative by fighting back those that do not want the fight to succeed.
"I remain committed to the fight against corruption, and I commend the Kaduna State Governor, Mallam Nasir El-Rufai for encouraging EFCC to establish a zonal office in Kaduna.
en
SOURCE :The Nigerian Voice (local news)