Maid Burgles Delta Lawmaker's Residence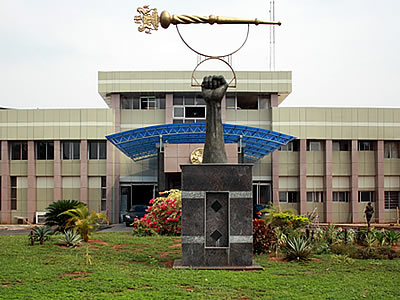 By Kenneth Orusi, The Nigerian Voice, Asaba
A maid working for the member representing Aniocha South Constituency in the Delta State House of Assembly (DTHA), Angela Nwaka, has allegedly burgled the residence of the lawmaker and carted away undisclosed sum of money, gold jewelries among other valuables.
The monies, our correspondent learnt are in naira and hard currencies running into millions, expensive jewelries, kitchen appliances and other treasured items.
The attack allegedly took place at the Legislator's Quarters along Okpanam road on Wednesday October 18, 2017, in broad day light, at about 10:30am amidst tight security at the legislative quarters.
It was reliably learnt that the maid c ame to the quarters in a tricycle and carried the items away under pretends of taking the kitchen appliances for repair and purchase of drinks with the empty grates of drinks that she carried along to perfect her plans.
The lawmaker at the premises of her residence said "I told my inner caucus that my house is no longer safe".
But one of the private security guards attached to the legislator's quarters while narrating the incidence said, "Madam house girl enter the quarters with Keke Napep, na the Police people wen dey gate allow her enter with the Keke. When she reach Madam house, we think say she won go market, na im make us nor suspect am. She kom carry somethings inside the Keke and dey come drive comot. Na as madam come back na im we come dey hear say big money, necklace, clothes and even gas cooker don varnish for the house".
Visibly saddened by the event, the lawmaker almost lost her cool but was quickly consoled by fellow lawmakers; Hon Shola Daibo, Hon Efe Ofobruku and Hon. Emeka Elekeokwuri who rallied round her.
The Policemen and Private guards attached to the legislator's residence were seen being questioned by the lawmakers who pressed for further answers to unravel how the daylight robbery took place.
Efforts by journalists to speak with Nwaka proved abortive as she kept mute while the consoling lawmakers denied being aware of any incident.
However, one of the lawmakers who confided in a fellow journalist said, the issue of insecurity at the Legislator's Quarters has been brought before the leadership of the House but no action has been taken so far. "I raised the issue of insecurity of our quarters at Caucus but no one believed me, see what has happened".
it was gathered that when her phone was tracked, the maid has been able to escaped to Lagos.
This is coming about one week after official residence of the Senator representing Delta North in the National Assembly (NASS), Peter Nwoaboshi was allegedly burgled and stack of Naira notes and hard currencies worth millions, jewelries and other personal belongings were also carted away by unknown bandits in Asaba.
en
SOURCE :The Nigerian Voice (local news)