Making Deltan Youths Job Creators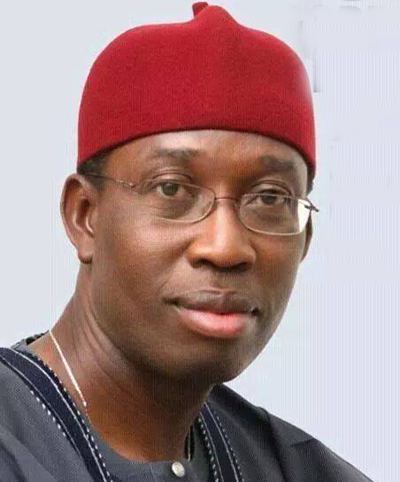 The plank on which the `prosperity agenda` of the Okowa administration is predicated is the creation of a new generation of Deltans who will not be job seekers but creators of jobs for themselves and other fellow Deltans. Some critics dismissed it as mere political gimmick to hoodwink the unsuspecting Deltans. But today two years down the line, the job creation office of the government headed by Professor Eric Eboh has proved the sceptics wrong. And this was essentially the message driven home last week at Songhai Amukpe in Sapele where another batch of 745 youths was being inducted into job creators in the fields of agriculture and skills acquisition. This reporter learnt that the 745 youths were carefully chosen from 15,700 after rigorous screening. These young men and women of various professional backgrounds are being minted to be future managers, jobs creators and entrepreneurs in their own right. What one could get from the vibrations of these youths is that they were very happy to be among the lucky ones to so far benefit from this strand of the prosperity agenda of the Okowa administration.
According to the information made available to this reporter, the 2017/2018 STEP & YAGEP is the third cycle of the state government job creation programmes for the youth and could also be called as Skills Training and Entrepreneurship Programme `STEP` and the Youth Agricultural Entrepreneurs Programme `YAGEP`. This programme is another step in the implementation of the job creation and a proof of its continuity.
It is on record that in the less than three years of the Okowa administration, 2,324 youths have been trained and these people have established their businesses and even employing other Deltans. It must also noted that in December 2017, the state government organised a STEP & YAGEP Product Exhibition and Business Fair which gave 400 of them the opportunity to meet investors, market their enterprises and products and services to the outside world. The job creation is so inclusive that 1,687 in STEP entrepreneurs, 618 as YAGEP entrepreneurs and 19 beneficiaries of the newly introduced Graduate Employment Enhancement `GEEP` .It is also a fitting tribute to the Okowa administration that those with disabilities are not left out as fifty -one persons with disabilities have benefited.
Prof Eric Eboh the man giving practical vent to the Governor Ifeanyi Okowa`s prosperity agenda attributed the successes of the programme to the vision and support of the governor. He puts it this way : `Today, thanks to the vision, leadership and unwavering commitment of His Excellency, Senator Dr Ifeanyi Okowa, the entrepreneurial landscape of the state is dotted with vibrant, innovative and well motivated educated youths actively and gainfully engaged in their enterprises. Many STEPreneurs and YAGEPreneurs bear various testimonies of life changing and dramatic personal impacts of the job creation programmes. Beyond the phenomenal turn around in their economic and social circumstances, many of them are progressing in their businesses on many fronts, including as trainers in their respective vocational skills and having products/services that compete well in markets outside the state. There are numerous cases of previously unemployed youths who through the job creation scheme have rediscovered themselves and are happily deploying their vocational skills as productive economic agents`.
In deed and in truth among such successful youths are Cynthia Oma Ehire, the chief executive officer of Oma Events and Oma Makeover, Sapele, Francess Onyinye Enyi, a farmer and graduate of geography from Aniocha South Local Government AREA, Chiweike Nwankwo is into fish production and an education graduate is from Ibusa, Oshimil North Local Government area.
Cynthia Oma Ehire shares her testimony: `I have never seen anything like this before. Job creation opened my eyes to these opportunities- Decoration and Event Management, before I diversified to Catering, Makeover and Skin Therapy. One could recall that in one of his addresses, Governor Okowa advised us "we are not training you to remain one. We are training you to become successful entrepreneurs who would train and employ other youths". Today by the grace of God, I have trained nine people while 15 persons are undergoing training in my enterprise. If I were a civil servant would I have been able to achieve all these in less than two years? Certainly not. I am a fulfilled entrepreneur and the proud CEO of "Oma Events and Oma Makeover".
Francess Onyinye Enyi, a proud poultry farmer is very much at home with what she is doing and that has impacted on her life economically. Listen to her experiences: `I have done over 10 broiler cycles with 750 broilers last Christmas season. I have also done 3 cycles of layers. I currently have 200 pullets, 50 boilers, 10 turkeys and a minimum of 12 crates of eggs daily from my layers. Last year I invested one million Naira into my poultry, bought 750 broilers for the Christmas season. After sales, I realized N2.3million as profit. From the proceeds, I bought a piece of land measuring 100 ft by 100ft. I hope to expand my permanent site`.
As for Chiweke Nwankwo, his foray into fish farming has made him to have disdain for government work as he makes more were he to be employed as a graduate in the civil service. He narrates his success story: `I am one year and six months old in the fish business. I have 9,500 fish, 7 ponds with one annex where I have two ponds. The highest number of stock I have ever had was 12,000 fish before I sold some of them at maturity. I now process my fish to add value, to control price and to prevent wastages. In addition. I am growing some brooder stock to enable me begin fish hatchery soon. In December, 2016, I acquired a plot of land measuring 300 ft by 320ft for expansion from the proceeds of my fish farm. I have trained 12 persons including corps members. I have one employee. I no longer need a government job. I am a busy man`.
The communication officer of the job creation office, Mrs Gertrude Onyekachukwu-Uteh maintained that apart from these beneficiaries who are able bodied men and women, the office is very sensitive to the needs of the physically challenged persons. She explains further: `To buttress this fact, persons with disabilities `PwDs` were evenly selected from the 25 local government areas in the state at the ratio of two persons per local government in collaboration with the Ministry of Women Affairs. While 23 of them were enrolled under YAGEP in fishery, 28 were in STEP, hairdressing and makeover, shoemaking, aluminium works and barbing. The beneficiaries who are 50 in number consist of 25 physically challenged persons, 13 deaf persons, four ex-lepers and eight vision impaired persons who received varied training in their chosen enterprises. This has in no small measure demonstrated that Governor Okowa is a governor for all. By all means, this has a lots of multiplier effects such as giving them a sense of belonging, giving them opportunity to harness their potentials and making them to be financially independent and self reliant. It is also helping them to become responsible adults who could contribute to the upkeep of their families and development of the state`.
For Dr Kingsley Emu, the State Commissioner for Economic Planning and chairman, steering committee on job creation, the success of the programme is in line with the pragmatic vision of the governor in empowering the people, adding that the programme has not derailed for a second. Hear his sentiments: `We are very much on track. The strings of successes that we have recorded in YAGEP and STEP are enormous. We have also developed loads of products that are covering small-time farm holders who are not fortunate to fall into these categories; we have the PPSP, which I told you earlier have supported small farm holders. They have used this intervention successfully. We have also supported them through farm inputs`
From the testimonies of those driving the programme and the beneficiaries, it is crystal clear that the building of next job creators, managers and strategic economic thinkers by the government is well planned and the benefits shall continue to affect all Deltans directly or indirectly. It is a fulfilment of promise made to the electorate by the Okowa team.
en
SOURCE :The Nigerian Voice (opinions)