Malabu Oil Deal: Jonathan Denies Receiving 200million Dollars Bribe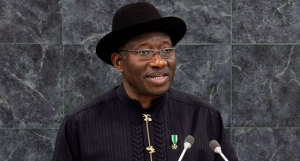 The Former President Goodluck Jonathan has denied allegations that he received 200 million Dollars from the 1.3 billion Dollars payments made by international oil companies for access to a prime oil block in the nation's Niger Delta region.
His media adviser, Ikechukwu Eze, said in a statement that the allegations are "fake news" meant to tarnish his rising profile in the international community, since the oil deal predated his administration.
Dr. Jonathan said he did not know Dan Etete, a former oil minister and the architect of the controversial deal, who allegedly received a huge chunk of the payments from oil giant Shell for the lucrative oil block, which he owned.
The report also claimed that 'Jonathan and Etete' had known each other for years, according to a Shell staff, when Jonathan served as a tutor to Etete's children while he was a minister."
But Shell has denied any wrongdoing.
Nigeria's government passed $1.1bn of the money paid by Shell and the Italian firm ENI to a company called Malabu, which was controlled by Mr Etete, according to Italian prosecutors.
Documents filed by the Italian prosecutors claim that $466m of that sum was then laundered through Bureau de Change and passed on to then President Goodluck Jonathan, and members of his government.
SOURCE: Channels Tv