Man ties child overnight for stealing from Aboki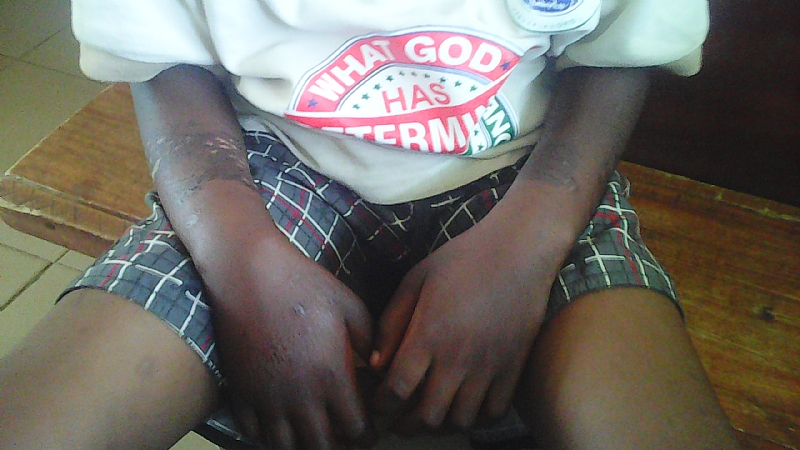 By Nofisat Marindoti, The Nigerian Voice, Osogbo
A shoe seller in Osogbo, Osun State, Mr Rubell Malizu allegedly tied the hands of his 11-year old child, Prosper Malizu overnight for stealing from an Aboki's shop around their residence in Ogo-oluwa, Osogbo.
Prosper was brought to the State Specialist hospital, Asubiaro today by his mother, Mrs Chioma Malizu when she noticed Prosper was not getting any better even after two weeks his father tied his hands overnight.
She explained Rubell tied up the child's hands overnight because he stole some things from an Aboki in their area but that that was not the first time Rubell would beat her or their two children.
Her words, " My husband constantly beats me and my children. Last two weeks, he tied the two hands of Prosper from evening till the next morning and since then, the child has not been OK. I came to the hospital today because his health is getting worse, he can't even move the two hands.
"My husband does not take care of us, I have stroke so I cannot work, even Prosper does not go to school.
On the day he tied Prosper's hands, I begged him tirelessly but he didn't listen.
"Now am tired, am tired of this marriage, I want to go back to my father's house. I am not well and am also sad. When they called my husband, he said he won't come to the hospital and promise to deal with me when I get home.
"People should please help me, my husband maltreats me too much even after 14-years of being together." She added with sorrowful eyes.
When Prosper was asked what happened, he confessed he truly stole some things from the Aboki's shop.
According to him," Yes I stole some belts, under wears and touches from the Aboki's shop but that was because I had nothing to eat, I sold the items so I could buy food with the money.
"What happened was that, on that day I stole something at home and because I was afraid of my father's punishment, I ran away from home. So while I was on the street, I stole belts, under wears and touches from one Aboki's shop.
"I was caught and taken to the police station and they called my dad. When he came to the police station, he was asked to refund the Aboki's money which is about N66,000.
"It was when we got home he tied my two hands together from evening till morning. But after everything that has happened now, I promise not to steal again."
The Chief Consultant of the hospital, Doctor Ola Ibigbami explained the medical implication of such punishment. He said when a person's hands are tied, the flow of blood gets constricted and the hands swell up.
"The manner in which people correct children these days is very wrong. When the hands are tied like that for a long time, the hands can get completely damaged and that might result to cutting them off.
"The children also suffer from both emotional and physical wound. Such children become aggressive and disorderly.
"We are happy there are no permanent damages on the boy, he just has lot of scars and he is already receiving adequate treatment. The ministry of women, children and social affairs has also taken the matter up.
"His father will be assessed too, he might be suffering from emotional stress or pressure and his mother will receive health care as she also suffers from stroke but has not been to the hospital before.
SOURCE: The Nigerian Voice (local news)