Master of his universe…Uche ogah: Will Abia State people have their way?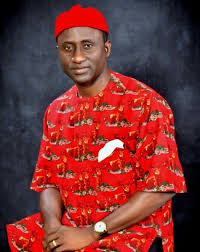 At a time when it is generally believed that one has to be a lowbrow, an incorrigible liar and a bit of a murderer, to be a politician, Uche Ogah ventures into politics to improve lives yet unwilling to see people sacrificed and slaughtered for the sake of his ambition. And if all wishes came true, then, Abians, especially those conversant with happenings back home, would wish to have a governor in the mould of businessman and technocrat, Uche Ogah.
A business colossus widely loved for employing and empowering his people, Ogah is the President of Master Energy Group, a conglomerate with over 15 subsidiaries playing actively in the Nigerian nay African economy spanning oil and gas, banking, insurance, aviation, shipping, dredging, logistics, construction, travel agency, power etc.
Also a chartered accountant, banker and redoubtable philanthropist, the 48-year-old ran for the governorship primary of the People's Democratic Party in Abia State. But prior to his emergence on the political scene, Ogah had endeared himself to Abians. He nurtures a robust interest in the humane. He was never brought up to savour bluster by finding pleasure in what is so commonly condemned neither was he given to pessimism at an early age. He chooses only to see the sunny spokes behind the darkest pall.
An indigene of Onuaku Uturu, Isuikwuato LGA, the well-read businessman built the Masters Energy Industrial city in his native Uturu to offer massive employment for his kith and kin and galvanise the local economy. Reputed as one of the first five biggest industrial cities in Africa and first of its kind in South-East Nigeria, it houses more than ten factories which include lubricants, grease, bottle water, juice, noodles, rubber and an assembly plant. Others are fertilizer, vegetables, rice, assorted wines and tyre plants.
Speaking during an inspection tour of the city recently, Ogah said, "The New Masters Energy Industrial City will create huge employment for my people. I have a design to accommodate all region but I will ensure local content. My people will benefit more and it will help reduce the rate at which Abians travel out in search of greener pasture. Young people are willing and ready to work but no job anywhere, they keep moving from the East to the West, from North to South in search of jobs and which makes many of them become frustrated and vulnerable to all forms of attack and some will even take to crime. Other state governments offered me lands to build this industry but is told my team that it must be sited in Abia." Indeed, some things become possible when people want them badly enough.
en
SOURCE :The Nigerian Voice (local news)