Mbaise Disown Uche Nwosu Chieftaincy Title, Sanctions Leo Nwokocha Other Monarchs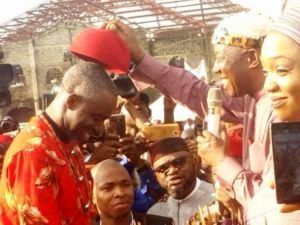 By EZURUEZU MBAISE GLOBAL
The Mbaise community socio-cultural Apex organization global network, the Ezuruezu Mbaise Global, has disclaimed a chieftaincy title conferred on Imo State Governement Chief of Staff, Mr Uche Nwosu, by a group of Monarchs under the name "Mbaise Council of Traditional Rulers", they adjudged illegally constituted, fraudulent, discredited and without reserved powers to do such, on behalf of the Mbaise Nation.
This was conveyed in a resolution signed by the group's Moderator, Professor Eddie Oparaoji, Facilitator, Chief Alozie Aguwa, and one thousand other indegenes of Mbaise, from across the world, which stated that "the Mbaise Council of Traditional Rulers is a body neither recognized by customary nor civil law, and therefore falsely usurped its representation of the culture and values of the Mbaise Nation, including the reserved powers to confer legitimate traditional titles. We hereby immediately cease all dealings, relationships with, and recognition of, this so called Mbaise Council of Traditional Rulers as it is apparently illegal and fraudulently represents itself as an embodiment of Mbaise culture and values. We recommend that all other entities and individuals should do the same."
They also resolved to "henceforth recommend to all entities and individuals to treat as rogue and non-custodians of our culture, and not accord any requisite protocols and privileges to those members of the fraudulent Mbaise Council of Traditional Rulers, who participated in the charade of conferring a sham chieftaincy title on Uche Nwosu, namely Leo Nwokocha, O.C Nwokocha, Joe Olekah, Waturuocha, G.O Obasi, B. Nwaneche, Onyekachi Ukpabi, Tony Nwanguma, Mike Nwamara, Thankgod Eleweogu, A.A.Anyanwu, Okechukwu Adiukwu, Ifeanyu Uwahemo and Mmadinobi.
Speaking on the matter Professor Oparaoji said "the report that these greedy individuals received millions of Naira to sell a chietaincy title, they clearly have no reserved powers to confer, on an individual with no contributions to our community, on our most sacred Iri Ji Mbaise day, is abominable, embarrassing, odorous, and totally unacceptable to our great community. We will boycott them and demand all our associates and relationships to do the same. Boycotting them is to send a clear message that we are about to reset our corrupt Traditional Rulers institutions, and that our community does not tolerate impunity."
To begin the reset, it appears, they did resolve that henceforth "the organization of the centralized Iri Ji Mbaise celebration will remain exclusively with Ndi Ezeji and Ezuruezu Mbaise, with appropriate protocol accorded Traditional Rulers."
en
SOURCE :The Nigerian Voice (local news)