Messy Family Fight: How Jude, Peter And Paul Okoye Exchanged Hot Blows At Keyamo's Chambers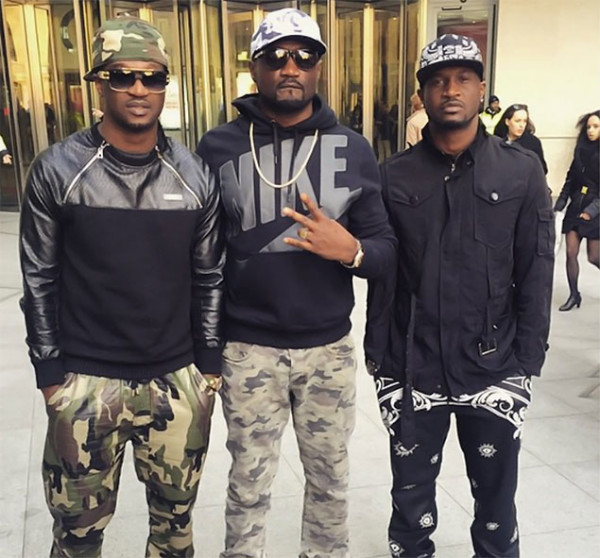 Estranged singing duo, Psquare had a heated fight in their lawyer's office following the ongoing disagreement and split of the group. The fight, purportedly recorded in a video currently trending on the internet showed Paul and Peter Okoye with their elder brother and manager, Jude Okoye in the lawyer's office. Jude, whose wife gave birth to a baby girl Monday, was seen threatening to beat up Peter who was behind the camera while Paul was heard telling Peter, "shame on you."
Hours after the video began to trend online, Paul took to his twitter handle @rudeboypsquare to respond; "Wow!!!! And he finally released the all mighty video lol."
Advertisement
News broke on Monday that the hip-hop twins who have dominated the Nigerian music scene for many years, had split up following a letter sent by Peter to their lawyer, Festus Keyamo (SAN). Peter demanded for a termination of the agreement as a group based on serious allegations against his twin Paul and their elder brother and manager, Jude. He accused Paul of no longer willing to co-operate with him, and even gone as far as cancelling their scheduled music tour to the United States.
He added that Paul was also slandering his wife and children with lies on social media, and alleged that his family was being threatened with threat messages. Peter further accused his older brother Jude of once threatening to kill him and shoot his wife Lola. Peter stressed that he was tired of the "drama." He had gone ahead to perform solo at a show in Philadelphia which he revealed on a Snapchat video. However, his brother and estranged partner, Paul had taken to his instagram page days later to write;
"Only a woman can come where there's peace and destroy it". The duo had gone their separate ways in 2016, after engaging in similar fight, however, they settled their differences and bought mansions close to each other in 2017. The Okoye brothers have been engulfed in war of words on the social media in recent times, and this development has confirmed rumours that there have been strains in their relationship.
-Vanguard-
en