Military presences in South East is tantamount to invasion: Ohanaeze Ndigbo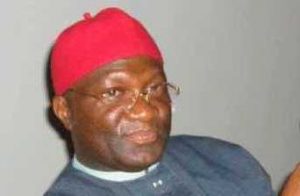 For the  pan-Igbo socio-cultural organization, Ohanaeze Ndigbo the massive deployment of miltary personnel to the South East, the homeland of Ndigbo, is tantamount to invasion.
And the goup through its President, Chief Nnia Wnodo, has called on the Federal Government to put an end it.
Reacting to reported skirmishes between members of the Indigenous People of Biafra (IPOB) and the military, in Aba Abia State, on Tuesday, the group in statement by Nwodo said that the action rather than guarantee the security of the people is aimed at intimidating people in the region.
He added in the statement that if the operation is not stopped, it would amount to an invasion of the South East.
"In a democracy, the level of disenchantment expressed by the people of the South East of Nigeria ought to have provoked a serious dialogue between our people and the federal executive and the legislature," he said.
"History teaches us that the continuous use of force to silence dissent and free speech will only accelerate the growth of dissent and dissatisfaction. Fundamental rights of freedom of expression are critical for a successful democracy."
The statement comes two days after an altercation between members of the Indigenous People of Biafra and troops of the Nigerian Army. Both sides have disagreed over what transpired.
The military had started an operation in the South East, code-named Operation Python Dance, last year with the aim of ridding the region of criminals and others threatening the security of the area.
Last week, it announced plans for Operation Python Dance II, but the continued military operation in the region has given Ohanaeze cause for concern as it believes it is being used for divisive purposes and extortion among other things.
"Nigeria at this moment does not need such deliberate and proactive escalation of tensions and crisis,' it said.
The group added, "Our people were shamelessly intimidated and harassed at these check points. Operation Python Dance 1 procured no arrests of criminals that were prosecuted for any of the criminal activities that Operation Python Dance II is supposed to address.
"Instead, it witnessed reckless and indiscriminate murder of self-determination agitators in Asaba, Aba, Nkpor, and Port Harcourt numbering up to 191 by the estimates of Transparency International and shattered public confidence of South-easterners in the Nigerian Army and Police."
Also, Ohanaeze claimed the operation by the military showed bias as the same approach had not been adopted in other places with similar crime rates as the South East.
"The Nigerian Army has never embarked on Operation Python Dance in any of the other five geopolitical zones on account of these incidences. Innocent civilians living in these other parts of Nigeria have not witnessed the type of invasion Umuahia witnessed Sunday night."
en
SOURCE :The Nigerian Voice (politics)