Mob Sets Customs Patrol Vehicle Ablaze In Kaduna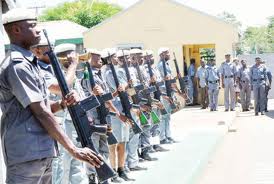 A patrol van belonging to the Nigerian Customs service has been set ablaze by some car dealers who attempted to prevent the officials from impounding some vehicles from a car shop in the Kaduna State capital.
Our correspondent in Kaduna gathered that a team of customs officials had stormed one of the car dealers' shops and seized about six vehicles suspected to have been smuggled into the country.
This however did not go down well with the car dealers who quickly mobilised some youths in the area to stop the action.
One of the customs drivers attached to the federal operations unit of the service in an attempt to escape from the mob was attacked and his vehicle set ablaze before the arrival of security operatives.
The spokesman of the Nigerian Customs, said
That the owner of the car shop is already in their custody, while investigations to fish out the perpetrators of the attack have commenced.
Source: Channels Tv