Mohammed Kurfi Danlami, Slams Dr Junaid Mohammed For Consistently Criticising President Buhari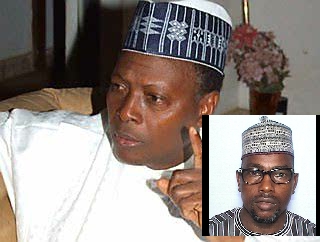 A member of House of Representatives, Hon. Mohammed Kurfi Danlami has given Dr. Junaid Muhammed a knock over his incessant criticisms of President Muhammadu Buhari and his policies in government.
The lawmaker representing Dutsin-ma/Kurfi Federal Constituency of Katsina State on the platform of All Progressives Congress (APC) described various comments, languages and frequent criticisms emanating from Dr Junaid Mohammed as disrespectful, unpatriotic and full of brazen inaccuracies to mislead the public.
Dr. Junaid Muhammed, a second republic lawmaker was reported to have this time criticised President Muhammadu Buhari's Independence Day message, accusing him of lying about his agricultural policies. He further claimed that millions of Nigerians were unaware of the agricultural policies the president was referring to.
Hon. Kurfi who is deputy chairman House Committee on Petroleum Resources Downstream in a statement from his media office personally signed by him on Tuesday said,
"For those who know me, they will attest to the fact that I have lots of respect for my elders and leaders, but shockingly Dr. Junaid Muhammed who many of us see as an elderstatesman from the north and that is expected to anchor his philosophy of politics on social conscience, integrity, truth and patriotism has chosen to fail us and derailed from the revered stool where we placed him. He now portrays himself as one of such wailing wailers who have seen nothing good in Buhari led administration.
"Without sounding immodest, the recent comments credited to Dr Junaid about President Mohammadu Buhari is totally unacceptable, inappropriate and despicable. Making such statements that are derogatory, inflammatory, misleading and damaging about a sitting President is an insult to all of us from the north and our founding fathers. It is also an insult on all Nigerians irrespective of their backgrounds or party affiliations. Dr Junaid obviously spoke for himself, such assertion does not represent us from the north"
"Whether Junaid likes it or not, President Muhammadu Buhari's laudable policies on agriculture have come to stay and they remain this administration's high priority for creation of jobs, economic revival and attainment of food self-sufficiency in Nigeria. And by the grace of God this government would continue to accord agriculture premium importance through programmes and initiatives designed to motivate the citizens to produce enough food to feed the nation and for exportation."
The statement continues, "I challenge him to show us his scorecards when he was at the National Assembly during his days in the second republic. He should tell us about his constructive engagements with the executive arm of government that time, he should also let us know if there were any life impacting, socio-economic driven bills or motions sponsored by him that championed the interest of his constituents or the country at large.
"It is disrespectful, callous and disappointing for Dr Junaid to cast aspersions on President Buhari at a time like this. There is nothing wrong with criticism but it must be done with decency and fitted along national progress, growth and development not on sentiments or emotions that is capable of destroying the good works already achieved or inciting the public against the government. This is very disappointing and shameful."
It added, "If Dr Junaid was patriotic enough he would commend Buhari's administration for securing the release of 106 Chibok girls, as well as taking as captives over 16,000 Boko Haram members. Today we can talk about decimation of Boko Haram in the North East, recovery of 14 local governments and territories previously under Boko Haram's control in the North East, rebuilding lives of citizens there, with about one million displaced persons in the region returning to their communities in two years of this administration. Power wattage from less than 2,000 to over 5,000mega Watts. Nigeria is presently proud of a frugal and prudent President as opposed to an era of profligacy
"Under this government, National Economic Recovery and Growth Plan is helping to aid economic recovery and taking the country out of her worst recession in 29 years, despite fall in oil prices. N1.2trn was expended on capital and infrastructure projects nationwide, today we can boast of effective implementation of the Treasury Single Account, and increase in government revenue by over N3trn as well as entrenching transparency and accountability. These are uncommon milestones in Nigeria's history.
Junaid speaks from both sides of his mouth, such disgusting stance is presently making many of us in the north to lose the respect we used to have for him. That is very sad. He now behaves like a political jobber who is looking for a favour from the government, but don't seem to know how to present his case, he feels through criticism he could manipulate the government to work his way through, that will never happen. We don't even know which political party he belongs. Those who know him should please tell him that we are tired of his distasteful distractions. Enough of this shenanigans please." The statement concluded.
en
SOURCE :The Nigerian Voice (politics)