More facts emerge on the woman who committed suicide in Lagos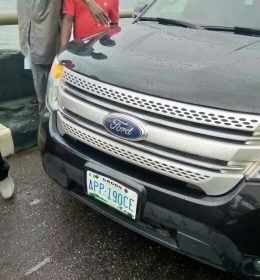 The middle-aged woman who committed suicide on the Third Mainland bridge at the weekend had bitter feud with her husband over who is the authentic father of their three kids, family source stated on Monday.
Our correspondent learnt that the United States based woman jumped into the Lagos lagoon from on top of the third mainland bridge after packing her SUV Ford Jeep on the highway.
Our correspondent learnt that until her death, she had three kids and her former husband who worked at Access Bank had conducted DNA test on their three kids after a string of suspicion bordering on infidelity.
The source said the woman used to live in Texas. She came to Nigeria and began illicit affair with a man in Lagos. The new lover was said to have defrauded her to the tune of 10million naira. This prompted her decision to invite the police.
The source said the lover blackmailed her by threatening her with her nude pictures which she took when they had love affairs. The picture and video clips of their sex escapes got to her real husband who opted for DNA test the result of which indicated none of the three kids was his
This prompted the woman on June 9 to commit suicide at the Lagos Third mainland bridge.
en
SOURCE :The Nigerian Voice (local news)